The following is a first-person piece written by Steve Appel, whose daughter Nicole receives supports from AHRC New York City. The Appels have been part of the AHRC NYC family for many years, and Nicole is currently an accomplished artist supported by Land Gallery. This is the touching story of how one person can make a huge difference in so many lives:
After Nicole graduated from the AHRC Middle/High School four years ago, David Summers came to visit us for the first time at our house in Queens. With him was a charming young woman from Spain named Pilar, whom some of you may be fortunate enough to still remember. Nicole and I spent the next hour or two across the table from them in our dining room, learning about AHRC's Day Hab Without Walls program. And they, in turn, listened to me drone on about my favorite subject in the world, my dear sweet Nicole… no surprise to those of you who know me! Just as they were about to leave, David leaned over and, whispering into my ear, asked me what I thought about Pilar as a possible mentor for Nicole.
Over the years, I had gotten to meet a number of gifted young women who had worked with Nicole that had remarkable intelligence, compassion and sensitivity, with an unusual ability to bond with her emotionally. My experience has always been that it's this profound emotional bond that makes all those things that we wish for our children in their lives possible. I recognized that indefinable, magical spark in Pilar and told David how excited I was at the prospect of Nicole spending time with her. It was our lucky day.
Nicole was always encouraged to express herself through drawings, personal narratives, and in the form of a "Wish Book," which now amazingly contains over 1800 wishes. As a person-centered program, driven by the personal needs and desires of the individuals it seeks to serve, AHRC's Day Hab Without Walls program was the perfect vehicle for Nicole to begin to realize herself in the social world, with Pilar as her Guardian Angel and Magic Carpet.
Her first two years at Day Hab with Pilar was a period of great personal growth and development. It was also during this time that Nicole began to emerge as a successful professional artist. There is no question in my mind that the richness of her experiences at Day Hab, coupled with the wonderfully warm and meaningful relationship that she developed with Pilar, helped to form the psychological foundation for her career as an artist.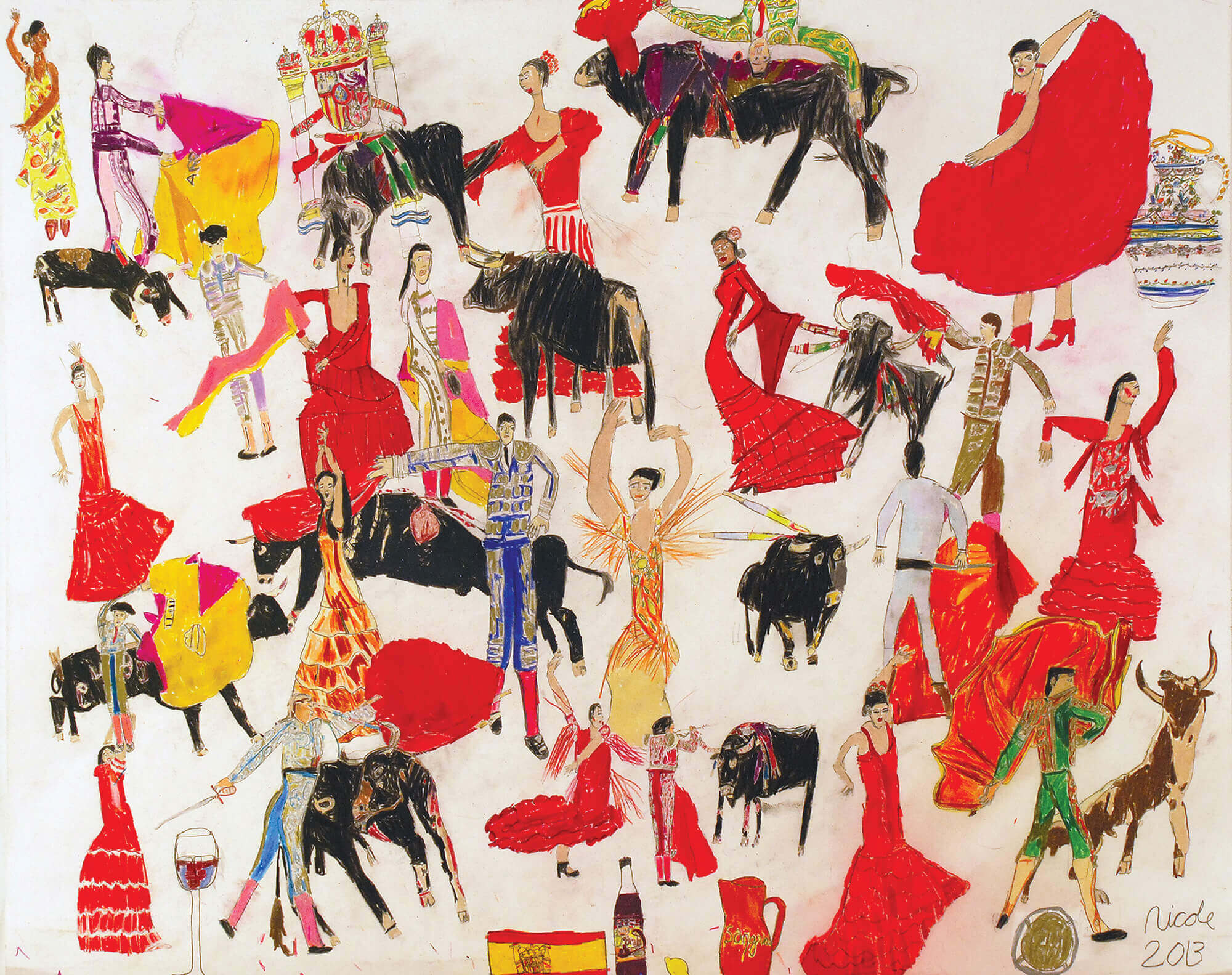 ---
Since 2014, Nicole has sold 22 drawings for just under $30,000. Her most recent works sold for $3,500 each and her new works are in high demand. Nicole is what the art world now calls an "outsider artist," without formal training or an interest in fame and money. Her drawings are done as gifts for the people she is fond of and are portraits of them, in the sense that they consist of images of things that they like or that characterize them in some way. She sells the original (at the encouragement of her gallery and parents!) and gives a reproduction as a gift and as a token of her affection. When the time came for Nicole to do a drawing for Pilar, it was done as a pure expression of her great love for her.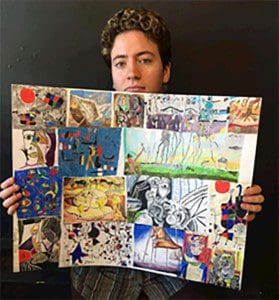 So it was with mixed emotions that we learned from Pilar, almost two years ago, that she had decided to go back to Barcelona to go to graduate school. We were, of course, very happy to see her pursue her career but were saddened at the prospect of having to say goodbye to such a wonderful person for whom we had developed so much affection and respect. But sitting over plates of paella in Rincon Criollo, an old family-run Cuban restaurant in Corona, we all happily resolved that we would not say goodbye but would meet again, in Barcelona, the following summer. A very happy prospect.
In May, this heartwarming, life-affirming reunion finally happened. Pilar met us at our hotel on our first night in Barcelona. The joy on Nicole's and Pilar's faces will always be etched in my memory. During the week that followed, Pilar, once again assuming her role for Nicole as Magic Carpet, transported us to some of Barcelona's most wonderful and enchanting restaurants. As incredible as the cuisine of Catalunya is, great meals shared with loved ones take on special meaning. It seemed as if only a moment had passed since our "farewell meal" in Corona. True friendship and affection are transcendent and eternal. One evening, we also had the pleasure of experiencing together a virtuoso performance of Spanish Guitar in a romantic chapel of a Gothic church, in the old center of the city, called the Church of the Pine… more magical, never to be forgotten moments.
So to all of you who work with Nicole as her mentors, and to all the other mentors at AHRC, Nicole and I thank you from the bottom of our hearts for what you do. A single word, a single gesture, a single act of kindness can transform a person's life and bring them to places that they and no one else ever expected them to be. You do the work of the angels. This is just one story in a book filled with happy endings. And as for you, Pilar, you are always in our hearts.