On Sunday, July 10, 2016, hundreds of people with disabilities from across the New York City metropolitan area gathered at Union Square Park in Manhattan for the second annual Disability Pride Parade, joined by family members, friends, and support staff.  Roughly 250 people representing AHRC New York City joined in the celebration.
As attendees gathered for check-in at a small booth on the grounds of the park, AHRC NYC staff asked them for their shirt sizes and provided each person with a free T-shirt to wear during the parade.  The light grey shirts were decorated with a design that was created specifically for the event by artist, Jabriel Perez.
The Design Contest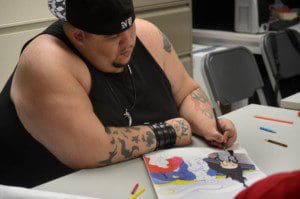 In April, AHRC NYC issued a call for artists to create designs that could be used on the T-shirts worn by people participating in the Disability Pride Parade.  Jabriel went straight to work and entered the contest.
"I felt pretty excited getting involved in a competition and I was excited to help with a project that puts people with and without disabilities on the same level, as friends," says Jabriel.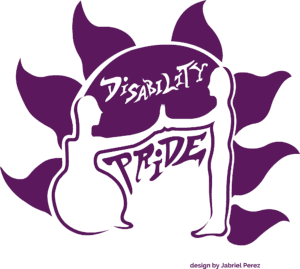 In May, 31 self-advocates gathered at AHRC NYC headquarters to vote for their favorite design entry.  Jabriel's design was chosen by the group of self-advocates, and his design was later prepared for the printing process.
Jabriel loves to draw and has been doing so since the age of 4.
"I use anything at hand: pencil, pen, markers… anything I can use to draw," says Jabriel when asked about his preference for art materials. "I always improvise."
He is working to prepare his art portfolio, with assistance from Gabriel Gonzalez, Art Consultant at AHRC NYC's EBS Brooklyn, which provides supported employment services to adults with intellectual and developmental disabilities.  Jabriel and Gabriel have been working together since March of 2016.  Before becoming an Art Consultant, Gabriel studied animation in college, so he and Jabriel share a passion for many of the same pop culture influences that show up in Jabriel's creative work.
Jabriel's illustrations take their inspiration from a few sources, including street art, video games, and anime.  "This was inspired by Gods of Egypt," says Jabriel, as he holds up a large sheet of butcher paper, covered with the colorful image of an Anubis.
Jabriel's Illustrations
Jabriel's work shows a predilection for figurative drawings, often embellished with ancient or mythological flourishes. His characters are menacing, armed with battle weapons, living among dangerous animals like wolves, tigers, and dragons.  At first glance, a viewer might find some of his drawings to be somewhat intimidating, but each drawing has a story, and the drawings aren't always about what they might seem.  "Here's a picture of a dog and a tiger and a phoenix," he says, unrolling a sheet of paper.  "I made these to represent my friends.  These are their spirit animals."
Flipping through a large size paper pad of his drawings, Jabriel points out an image he drew of a visit he shared with a friend from EBS Brooklyn to MCU Park in Coney Island.  "I give a lot of my drawings to friends," he says.
Jabriel hopes to develop an online portfolio, to make it easier for him to show his artwork to people.