Irvin Rodriguez
Chief Technology Officer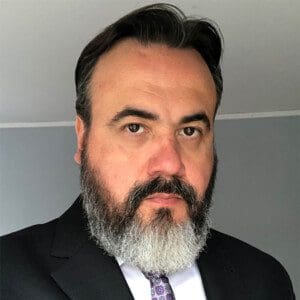 Irvin Rodriguez, AHRC NYC's Chief Technology Officer's technology career spans 30 years, with an impressive and diverse range of experiences, including NYC-based nonprofit IDD services, finance, health care, Medicaid managed long term care health plans and eldercare.
Irvin started out at Lehman Brothers and Paine Webber, providing technology support for the firms' brokers. After his time there, he spent a few more years in financial services technology, before transitioning to the world of international media and advertising at Saatchi and Saatchi, supporting web technology and design applications.
In 2002, Irvin joined the Jewish Guild Lighthouse, where he spent the next 10 years of his career working to support networks, infrastructure, security and IT operations for the Guild's multiple program and service lines, from substance-use rehabilitation to IDD services and programs. In this role, Irvin helped establish and support Guildnet, a ground-breaking managed long-term care plan, developing their digital, holistic care management platform. Irvin was later recruited to Promesa/Acacia, a Medicaid based multi-tier provider, where he led the implementation of their EMR platform and implemented a methadone management and expense system.
Irvin then joined CareOne, the largest privately-owned assisted living and healthcare provider in New Jersey, and was quickly promoted to CIO, leading a successful EMR data warehouse implementation transition, modernized their infrastructure, and supported the technology needs for 13,000 employees.
Following his success at CareOne, he then joined ActiveDay, a large adult medical daycare organization, where he successfully modernized their technology platform and infrastructure.  Most recently, Irvin was Vice President of Information Technology for Foot & Ankle Specialists of Mid-Atlantic (FASMA), a private equity-backed podiatric network, operating 62 Offices in 5 States, with 125 doctors. At FAMSA, his technology focus was on integrating acquisitions and scaling core technology across the organization.
As CTO, Irvin will work closely with me, the executive team and senior leadership, in progressing our overall technology strategy throughout the organization. As we continue our transformation efforts, technology capabilities will play a critical to the promotion of our mission and vision, and to our future success.