AHRC New York City was recognized as the Nonprofit of the Night at the Brooklyn Nets game held on January 31, 2020. The celebration included a chance to see pregame warmups near courtside; a pregame on-court recognition ceremony; a halftime radio interview featuring Marco Damiani, CEO, and Jayson Costor, a young man who receives support from AHRC NYC's Camping and Recreation Department; and more than 100 seats for that evening's game that pitted the Nets against the Chicago Bulls.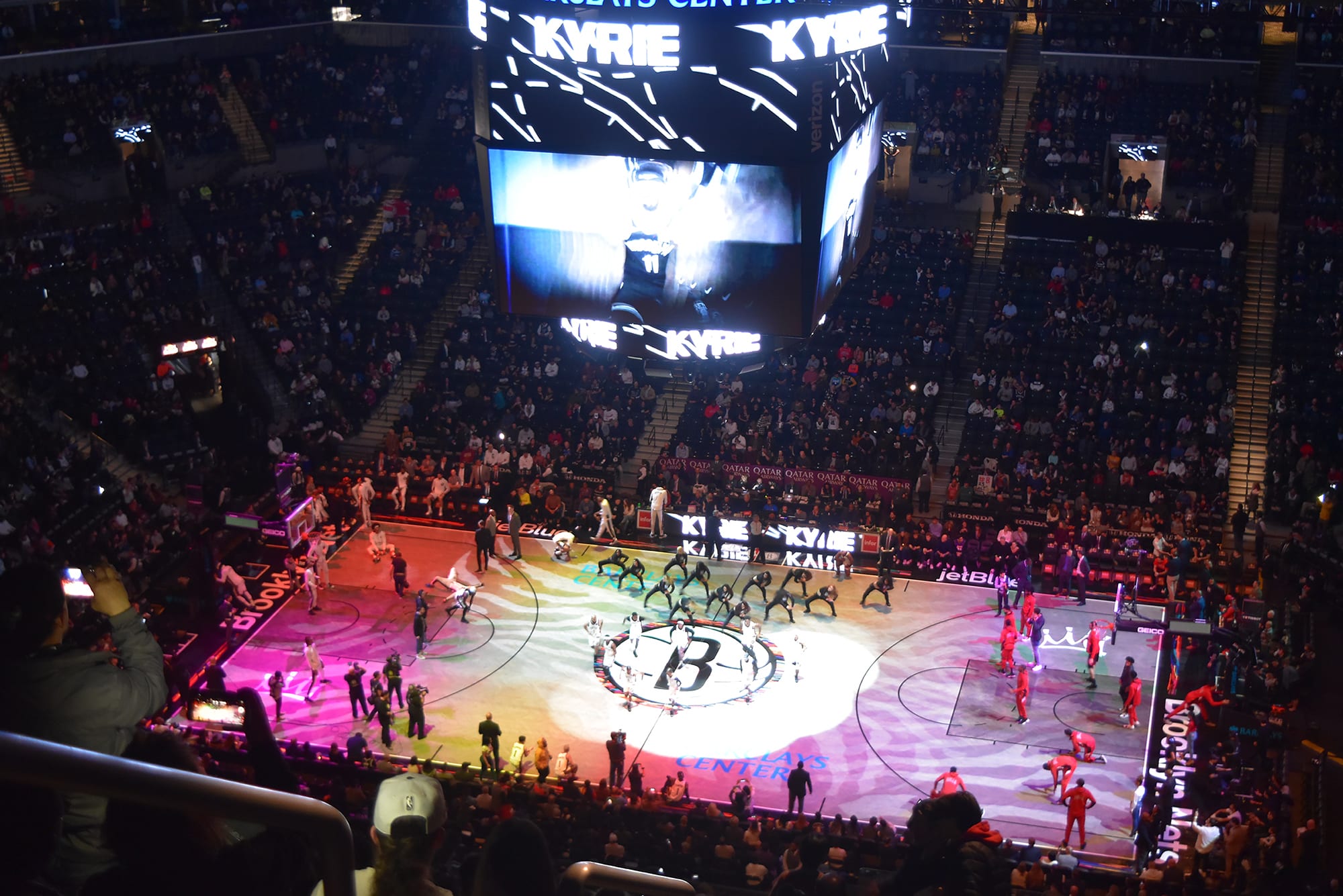 This opportunity was made possible through AHRC NYC's Recreational Services and our organization's longstanding partnership with the Nets' home arena, Barclays Center, through Employment and Business Services.
"I've been to basketball games before, but never with this many of my friends," said Stuart Natko. Stuart receives supported employment services at AHRC NYC Headquarters and often participates in Camping and Recreation programs. "I've been to Brooklyn Nets games here [at Barclays Center] and to New York Knicks games at Madison Square Garden," he said. "It feels great to be here tonight, especially with a lot of my friends and coworkers from the main office."
WFAN Halftime Interview
At halftime, Marco Damiani and Jayson Conover were interviewed by Chris Carrino, the radio announcer for the Nets on WFAN. Marco began by recounting AHRC NYC's founding by Ann Greenberg in 1948 to its standing today as one of the largest nonprofits supporting people with intellectual and developmental disabilities.
"We support 15,000 people in New York City, and we have a broad range of services and supports for them," Marco said. "We also consider ourselves a social justice organization, fighting for the rights of people of disabilities."
---
Marco described the successful partnership that AHRC NYC's Employment and Business Services has established with Barclays Center over the past several years. "We have almost 30 people with disabilities working here—at the concession stands, as security guards, and Levy Restaurants has been terrific empowering people with disabilities," he said. "They're not just doing this because it's a nice thing to do—they are getting people real jobs, competitive pay, and you can just walk around this amazing arena and see the amazing work that's being done."
Jayson got a chance to describe his association with Camping and Recreation programs. "I've been with AHRC since 2015," Jayson said. "I went to the Poconos for the first time [with Recreation Services]. I am also with the afterschool program on Tuesdays, Wednesdays, and Thursdays. My dream is that I want to make my own animations."
Chris, who founded the Chris Carrino Foundation for FSHD (a form of muscular dystrophy), said: "I know personally having a disability myself, people with disabilities want to be productive, and I applaud your organization for letting them do that."
Exciting Action
The on-court action that evening proved to be historic. The Nets defeated the Bulls 133-118 behind a sensational 54-point scoring effort from star point guard Kyrie Irving. It set the Nets franchise record for most points scored against Chicago. In a post-game interview, Irving dedicated his performance to his close friend Kobe Bryant and his daughter Gianna, both of whom passed away the previous Sunday.