On Friday, November 3, 2017, students at Hostos Community College welcomed guest speaker Bernard Carabello to hear him talk about what his early life was like living at the Willowbrook State School, and how his experiences shaped his role as a self-advocate and disability activist.
From Willowbrook Survivor to Self-Advocate
Bernard described the horrific conditions he experienced while living in Willowbrook from age 3 to 21 and how he came across investigative reporter Geraldo Rivera. After the class watched Rivera's exposé documentary of the Willowbrook State School, students were deeply moved and wanted to hear more about Bernard's personal experiences. Upon asking what he did afterward, Bernard said, "I became a self-advocate. I advocated for people who couldn't speak up for themselves. I became their voice."
Bernard spoke about how self-advocates need to be heard, that self-advocacy groups should be run by self-advocates, and that self-advocates should choose their own staff. He shared his concerns about Medicaid cuts, the importance of bringing fair wages to Direct Support Professionals to maintain quality staff, and the work still needed for accessible transportation.
Here to Inspire the Next Generation of Disability Activists
With an eye toward the future, Bernard encouraged the class to become the next voice for making the world a better place. "I want to see if I can do it," a student responded. Bernard asked students to share what issues they were passionate about and encouraged them to advocate for what they think is right. Some of the issues described included access to technology for people with disabilities and self-employment opportunities.
Amongst the students was visitor Jorge Matos Valldejuli, Assistant Professor and Reference Librarian at Hostos Community College, who attended the class to hear Bernard speak about Willowbrook. As the library's liaison, Valldejuli is a connection to resources for students with disabilities on campus. He has a profound interest in disability history and his work currently focuses on how it intersects with Puerto Rican and African American communities.
Advocacy Unlimited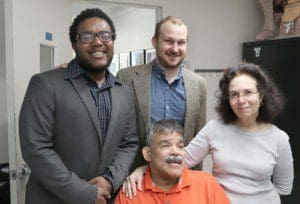 As a self-advocate and disability activist, Bernard Carabello understands the importance of cultivating new leaders. He continues his work in teaching others to speak up for their rights and advocating for the issues they care about by reaching out to people, such as the students in this class. Advocacy Unlimited: The Path to Empowerment is an exploratory course set to examine the world of self-advocacy, and is offered through the Continuing Education Departments at the College of Staten Island, Hostos Community College, and Kingsborough Community College. At Hostos this semester, it has been co-taught by Oscar De Los Santos, a third-year student of AHRC New York City's Melissa Riggio Higher Education Program at Hostos Community College, and Matthew Estep, AHRC New York City's Self-Advocacy Advisor.