Elvin Flores' artist's statement states, "Art is something that he does, it comes from within and he appreciates the opportunities he has had to develop as an artist. He considers himself a student and he learns from all of his teachers."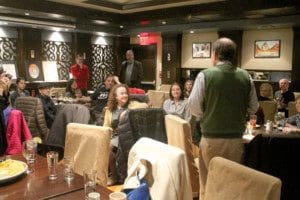 On Saturday, February 18th, many of these teachers–his parents Millie and John, neighbors, friends, and staff from AHRC New York City's Joseph T. Weingold Day Services came out to support Elvin as a collection of his recent pieces were displayed at Sidetracks, a restaurant in Sunnyside, Queens. The occasion was also celebrating Elvin's birthday.
"I cried this morning, it's like a dream come true," Millie said.
About the Artist
Elvin has been actively painting and drawing for over a decade. His talent was discovered and developed at Weingold through working with Jason Cina, Art Consultant. He now works closely with Ben Granoff, Art Consultant.
The paintings are often bursting with color and tend toward the abstract. Saturday's exhibition mostly centered on watercolor works, but he has painted using a variety of mediums. His personal sketchbook has also received praise for its meticulous and detailed designs.
Over the years, Elvin's art has been exhibited in numerous venues, including MOMA, the Queens Museum, and Pace University.
Getting Sidetracked by Elvin's Art
At the restaurant on Saturday, Elvin took great pride in showing off his work to guests. Millie said art has allowed him to express himself in ways she never thought imaginable.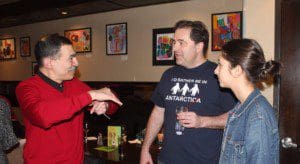 "I didn't know he had this talent," she explained. "Jason realized that he had this ability, and between him and Darinka [Vlahek, Director, Community Inclusion Initiative] they started encouraging him. The minute my husband, John, saw the art he was convinced."
Laura Cucinotta, Community Support Supervisor, said that it was amazing to see the amount of support Elvin receives for his artwork. "Everybody from family friends to neighbors to the florist where Elvin and his dad go to pick out flowers for his mom came out today," she said.
"Elvin has a love of beauty and I recognized that," John said. "My mother was an artist herself. The florist visits and his artwork were an opportunity we could share together and with my wife."