On Friday, June 14, 2013, AHRC New York City staff, along with friends and supporters, gathered in the Bronx to celebrate the dedication of the newly-opened Howie Stone Day Services, a facility that consolidates several existing Bronx-based programs under one roof. The building is now home to the Bronx Special Needs program, (operated under the direction of Charlotte Diaz,) and the Bronx Traumatic Brain Injury program, (operated under the direction of Ana Sostre).
About Howie Stone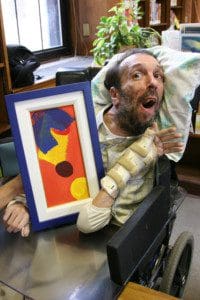 During his life, Howie Stone was challenged by physical limitations, but he persevered, living his life to the fullest, and leaving behind an inspirational legacy. The children's book about Howie, called Howie Helps Himself, (1975, Author: Joan Fassler, Illustrator: Joe Lasker,) was the first book for children featuring a hero who happens to use a wheelchair. In his adult years, Howie became a talented artist, and many of his original paintings line the walls of the new facility.
Distinguished Speakers
"At it's heart, today is about family and community," said Gary Lind, Executive Director, AHRC New York City. "This is about the hard work of the Stone family throughout the years, and the community of the Bronx who have always worked hard to make sure that the valuable services and supports were available, to help people to do what they wanted to do with their lives."
The event included a number of distinguished speakers who knew Howie Stone personally, including many friends and direct care staff who supported Howie and learned from him throughout his life, as well as family members, religious leaders, and public officials who have worked to secure services to people with disabilities in New York State: New York State Senator, Jeff Klein; Assemblyman, Jeffrey Dinowitz; Assemblyman, Michael Benedetto.

---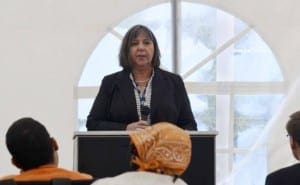 Speaking to Howie's legacy, Harriet Golden, Associate Executive Director, AHRC New York City, added "The name of this building represents someone unique, someone extraordinary. Howie was a man who broke the wave of challenge like an experienced surfer, who kept his sense of humor through much adversity, and who attracted friends like a magnet… He was a loving and kind person, whose love for his family, Bill, Dorothy, and Linda, was unwavering."
"I feel so blessed to be here today, surrounded by so many friends and relatives," said Howie's mother, Dorothy Stone. "The love of speech continued on throughout Howie's life, and he always wanted to improve his communication skills, even demanding speech [services, while] at camp.  Michael Rose, the Director of Camp Anne, assigned a dedicated Counselor, and the results were always positive.  The Counselor wrote to us to express thanks for the privilege of working with Howie, saying, 'He taught me more than I taught him."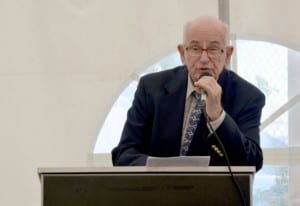 "I truly am overwhelmed by everything that was said today," said Howie's father, Bill Stone, while concluding the event. "It's really a tribute to Howie and what he accomplished in his fifty years… When he was born, there were no services for children like him. Medical professionals advised that we institutionalize him, but that was something we never considered. Thank you for being here today. In one way or another, you are dear to Howie, and you did something that helped him."
AHRC New York City thanks everyone who was instrumental in the development of the Howie Stone Day Services, to the Stone family for their work in securing new programs and services for people with disabilities across New York State, and to Howie Stone, who's legacy lives on in the hearts of all who knew him.
About the Building
The new building, developed by Simone Development Companies in accordance with AHRC NYC's needs, features recycled construction materials that minimize waste and reduce the carbon footprint.