The onset of the COVID-19 crisis required quick adaptation to a new style of learning for millions of students in New York City. For students with disabilities, including those at AHRC New York City's preschools and school-age programs, the challenge was especially pronounced. Despite these inherent difficulties, remote learning is underway at AHRC NYC thanks to the professionalism of AHRC NYC Education staff members, STAR Autism Support, and families.
Prepared Like No Other
"At the start of the crisis, everybody was in a panic," said Katie Vanvort, a kindergarten and first-grade teacher at Brooklyn Blue Feather Elementary School, (BBF). "We weren't sure what our expectations were. In the chaos, there was a lot of confusion about what we would be responsible for. Everybody in the school came together and said this is what we need to figure out and we created an ability to bounce ideas off of each other."
The schools worked with families to identify their technology needs to ensure remote learning success. "For those families who did not have an iPad or a device to use to do distance learning, we were able to loan them an AHRC iPad," said Denise Polanco-Nieves, Principal at BBF. "In addition, we were also able to loan families whose children were using AAC [augmented and alternative communication] devices from the school district. This is how these students are communicating in school and we needed for them to be able to have a 'voice' at home."
John Goodson, Assistant Director, Educational Services & Program Development, and Katie are appreciative of the support of Oregon-based STAR Autism Support in setting up remote learning. Katie has been using the STAR curriculum for more than a year-and-a-half in her classroom. "It has a great ability to take applied behavioral analysis formats and not just make it a table-time activity that you do with the kids. It incorporates every aspect of the school," Katie said.
"All students deserve access to educational services, no matter the circumstances," said Jesse Arick, STAR Autism Support's CEO. "Addressing students' needs during school breaks and disruptions can feel particularly challenging for students with significant needs. Our program facilitates collaboration between educators and caregivers so they can work together to help continue their students' education. We are committed to providing solutions to keep students moving forward in their learning."
John added that the long-term partnership with STAR has been immensely beneficial to preparing teachers and students for this crisis. "It's a very technically advanced way of teaching children," he said, adding that the staff has worked diligently to make this work in all the schools. "We're teaching students and training parents on using different techniques to drive ABA.  We're coaching parents to be the primary clinicians and now they are."
Maintaining Students' Progress
Nathaniel Foreman's seven-year-old son, Timothy, is among the students receiving remote learning lessons from his teachers at BBF. "I believe given the circumstances Timothy's doing really well," Nathaniel said. "He acknowledged right away Mr. Jonathan [his teacher] is right on the screen. He can participate in the class and understand the instruction the teacher is giving him. The other day he even took an art class and mimicked what the teachers were doing and drawing a similar picture."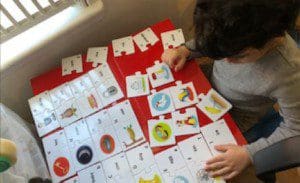 Parents and teachers want to ensure that consistency is maintained during this time. "My short-term goal is just to maintain the skills that we've been working on with the kids, that when they go back to school that we don't see regression," Katie said. "If we can gain skills along the way, that's great, but that may not be possible because of the needs of some of our learners."
While Nathaniel said he worries the quality of education Timothy is receiving right now is not the best because he is not learning directly from his teachers, parents have been instrumental in the success of remote learning, Denise said. "It has been quite the challenge keeping some of our students in their seats and focused for more than a few minutes at a time.  We see parents and older siblings tag teaming to make the session a successful one and I am so happy to see the families learn and model the techniques utilized by the staff and try to replicate them during the sessions."
"The hardest thing really is that we're home," Nathaniel added. "School's not structured to be relaxing. You get into a different mindset at home. I need to help him understand how to get into a different mindset. I'm sure many other parents feel the same way."
Denise sees potential for remote learning even after the COVID-19 crisis passes. "I think that for those students who are unable to come to school for a few days that this type of learning can help the students maintain the skills they have acquired, thus reducing regression. I also see this as a great opportunity for those families that cannot come to monthly clinics and/or parent workshops due to work schedules or other commitments–now they have an alternate means of participating."