AHRC New York City's Day Services offer adults with disabilities a variety of services and opportunities. Using a person-centered approach, individualized and creative supports are offered to achieve meaningful goals based on the person's strengths and preferences. Providing individualized support includes being respectful of a person's choices, and responsive to the person's unique needs.  We are proud to share some of the outstanding artwork that is being created by people who are supported through Kings Highway Day Services.
Art Consultant, Marshall Harmon supports art-making activities offered at Kings Highway, providing opportunities for artists to experiment with a variety of media. While many of these media are traditional, such as paint and canvas, Marshall has incorporated technology into the process, encouraging the artists he supports to use the iPad to create their initial sketches.
Djsaniuka Pierre
Djsaniuka Pierre, (DJ for short,) is a prolific artist, who has learned to use the iPad to plan for her larger works. Since she began to use the device, DJ has amassed almost 1,500 digital sketches.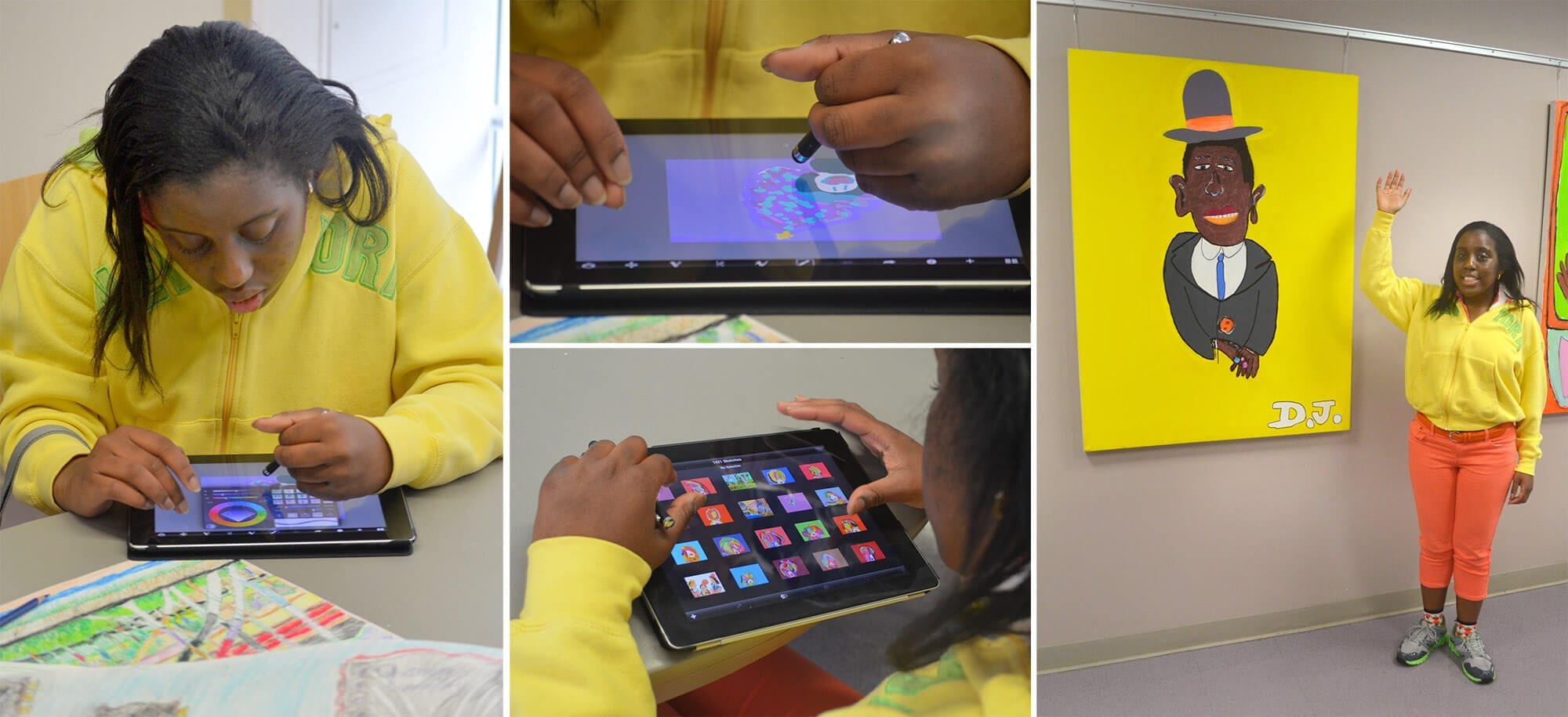 ---
An example of DJ's joyful and witty style can be found in the large acrylic painting, Sunny Side Up, depicting a fanciful chicken with a fried egg for a tummy. Several of her creations can be found lining the walls of Kings Highway Day Services, providing a colorful, playful display for the environment.
DJ's extensive body of work includes an eclectic range of imagery, inspired by many sources, from fashion magazines to art exhibits that she has visited. Horse Soundsuits was first sketched on an iPad while visiting Nick Cave's Heard NY performance art piece in Grand Central Terminal.  "When we go to an event, DJ takes the iPad, and right there, whether it's a museum, or an exhibit, or an event with performance art, she's there creating in the instant," says Marshall.
It takes time for the artists to develop a collection of their work. Working under the direction of Verna Hutchinson, Facility Director, Kings Highway Day Services, Marshall has spent the past three years helping the artists to explore various art techniques, in the hope that by doing so, their work can be prepared for display to the public. "At the time the question was, how do we develop a group that is cohesive, has a shared energy, focused exclusively on producing art? We're now at a point where we have the evidence of their work. It gives us the credibility to reach out to all kinds of constituencies: dealers, museum educators, art writers, gallery owners – people who validate bodies of work."
Rayed Mohamed
Inspiration can come in many forms, but the implementation of an artistic design can be as unique as the person who is creating the artwork. In the case of Rayed Mohamed, who happens to be legally blind, creating visual art presents certain challenges. Using markers and pens to illustrate, Rayed keeps his eyes only inches from the surface of the paper, diligently drawing thousands of small strokes which, over time, form a lattice of intricate patterns which cover the entire surface.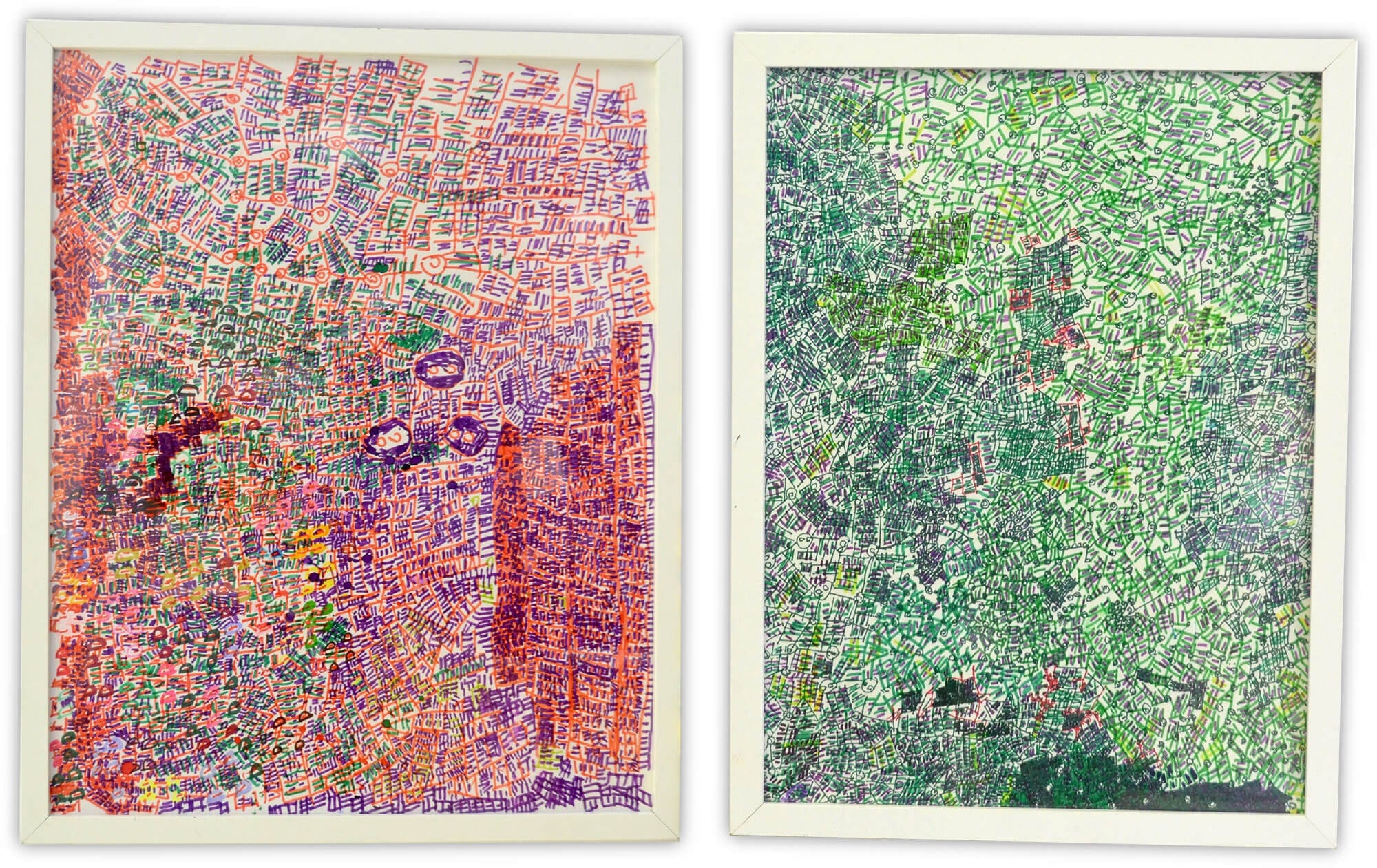 Staccato lines, added layer by layer and color by color, create images reminiscent of urban topographies.
William Caballero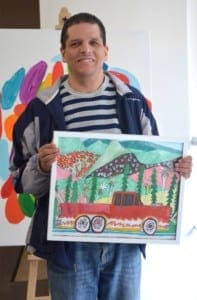 William Caballero was born in New York and has traveled many times with his parents to their native Puerto Rico. Working from his memories of these trips, William creates lush, vibrantly colorful Caribbean landscapes and pueblos, and now has 15 completed works in his portfolio.
These mixed media works reflect a keen understanding of spatial relationships and attention to foreground and background elements found in classic landscape painting.
AHRC NYC celebrates the Art Consultants who use their talents to enhance the lives of the people we support, and who promote independence and full inclusion in the community through their efforts.
Art activities are a small portion of the opportunities offered to adults through Day Services programs. Work opportunities, residential services, recreational and leisure-time activities, and many additional services and supports assist these adults in overcoming obstacles and enriching their lives.