The article below was written by Zoe Yates, Art Consultant, Kings Highway Day Center:
Over the past year, the weaving workshop at AHRC New York City's Kings Highway Day Center has been working on a project making hand-woven dolls and stuffed animals that were sent to Koutsochero Refugee Camp in Larissa in northern Greece. Koutsochero was formed shortly after an influx of refugees began arriving in Greece during the summer of 2016. Many of the residents at this camp are fleeing conflict and violence in the Middle East, (mainly Syria, Iraq, and Afghanistan,) and are seeking asylum in the European Union. Waiting to be approved for asylum can take months so many organizations are working within the camp to prioritize families and maintain services critical to living a normal life. The Kings Highway weaving workshop sent our dolls to an organization working within the camp called Intervolve.
Staff and people supported at Kings Highway wanted to engage in a weaving project that would take the weavings out of the workshop and into both the international and local community. The design process began by weaving fabric used to make the stuffed animals and clothes for the dolls. The group designed dolls and stuffed animals using colors that made them feel happy and uplifted during the weaving process. Recycled fabrics were used to create the dolls and they sewed together clothes and accessories using extra weavings.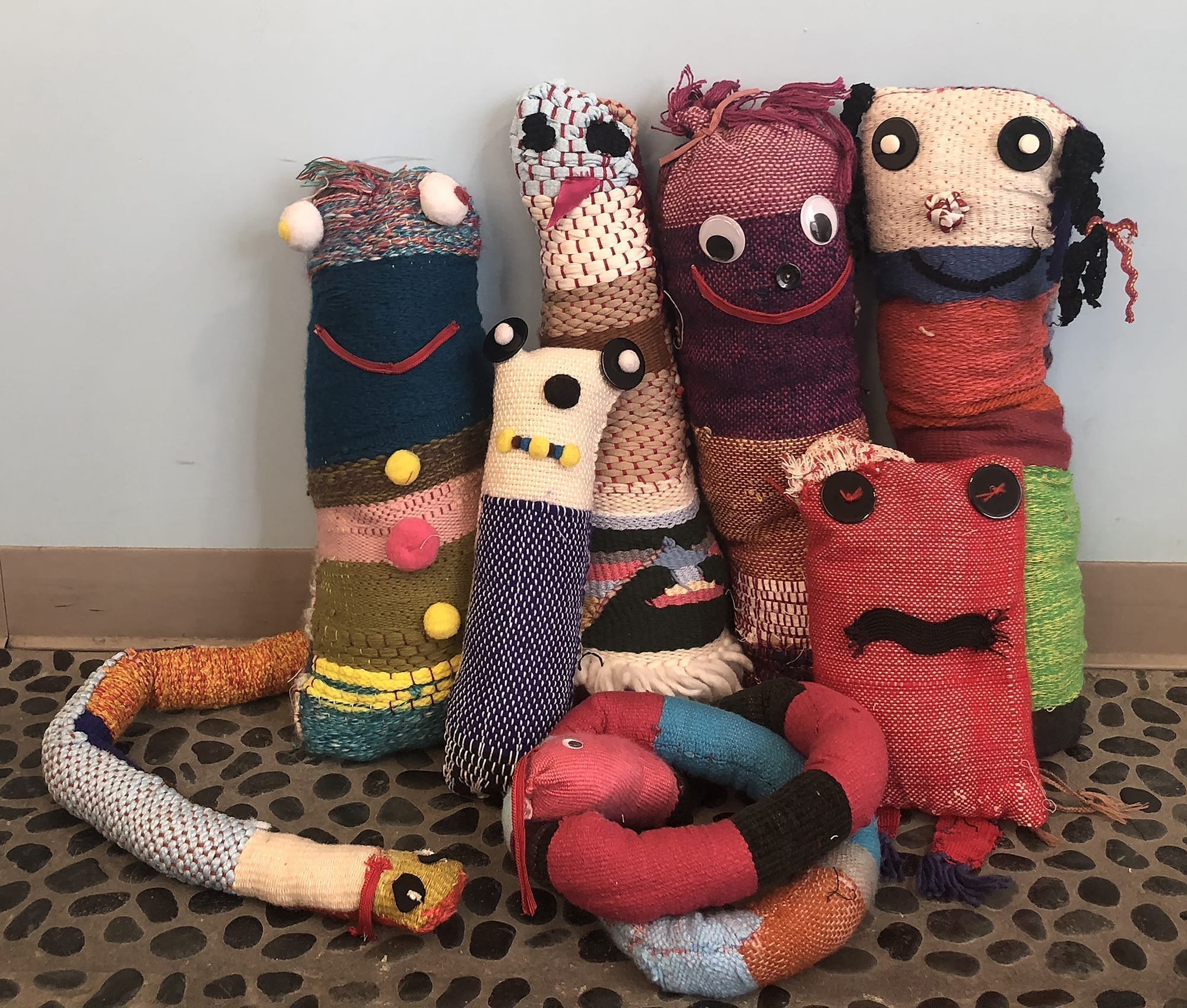 The weavings were sewn into stuffed animals using basic square and rectangle shapes, so the stuffed animals can also be used as seating cushions as necessary. Other groups worked on stuffing the dolls and animals and then helped to glue on eyes, mouths, and yarn for hair.

The idea is that the dolls and stuffed animals were made using playful shapes, colors, and styles, which will inspire kids to be creative, inventing their own characters and worlds as they play. While creating the dolls, the weaving group had conversations about why it is important to help others, specifically kids, because all kids deserve the freedom to play and be creative. They also talked about how their actions in Brooklyn can make a positive impact on people across the globe. This opportunity allowed weavers in Brooklyn to connect with people across the globe through art, creativity, and service while learning a valuable skill.
The weaving worked with other groups at Kings Highway to organize a sale with chocolates, soaps, woven pillows and bags, and 2019 calendars showcasing the artwork of other Kings Highway Artists in order to raise money to mail the dolls over to Greece. They waited nearly a month but just before Christmas, we received news that the dolls and wacky stuffed animals made it to Greece!
This camp was chosen specifically because the residents are long-term. Many organizations working at the camp focus on providing services directed towards women and children and strive to organize activities focusing on creativity and community. Kings Highway also had a contact working at Intervolve, a non-profit organization working at the camp to offer services to support the camp's children, who assured them the dolls would be used in the camp's library!