Steve Appel prepared for the worst when his daughter, Nicole, was diagnosed with autism at age 3.
"I sobbed all night. I thought that Nicole will never speak, and I will never get to know the beauty of her inner world, to get to know her feelings and her faults," Steve said. "I wanted to know my child."
Nicole cannot easily communicate via the spoken word, but through her boundless artistic talents, Steve quickly learned that she was more than capable of self-reflection and emotion. "In retrospect, I know her better than I ever would have if she was a 'normal' child because of the way she expresses herself."
Nicole's signature drawings, each a world unto themselves, will be featured at the upcoming Outsider Art Fair, held from March 4-6 at Metropolitan Pavilion in Manhattan. Five of her works were recently purchased for the collection of renowned artist Brian Donnelly, aka KAWS, continuing a years-long run of success in the art market.
Turning Dreams into Drawings
Steve said that Nicole's constantly active imagination translated into art. "She had a language deficit but was always able to recount her dreams," he explained. "Her first drawings were likely based on those dreams."
Nicole had difficulty connecting with her peers. Desiring companionship, she created an active world in her mind, complete with close friends and clues into her life goals.
"She began drawing with her fingers one day at the beach," Steve recalled. She swiftly progressed to pencils and paper, which has become her preferred medium. The average Appel composition takes about six weeks to complete, with some pieces taking longer based on their size and intricacy.
Highly Detailed Pieces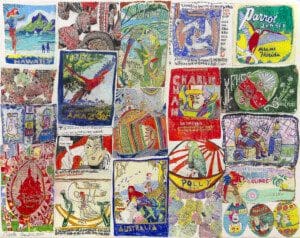 Nicole's art has progressed from showcasing her imaginary friends to capturing the lives of real-life companions and mentors. She uses a photographic memory to create scenes of immense detail, capturing the lives of friends and family with astonishing accuracy and wit.
"She's always been conscious of the calendar, so one of the things she started to do was make birthday cards for her imaginary friends," Steve explained. "When she got older, she started to create cards for actual people she knew. She loves people—that's what her drawings are all about."
Steve said that Nicole processes the world and language in a visual manner. Words are often too abstract a concept for her mind. "Nicole sees the world with all of its details," Steve explained. "When you have a word to describe something, you don't need to extrapolate further details. Words are highly reductive—Nicole continues to see the world's intricacies."
Support from Many Places
Steve is grateful for the constant support Nicole has received throughout her life and career as an artist. Now represented by LAND Studio and Gallery, Nicole graduated from AHRC Middle/High School in 2012 and continues to receive support twice per week from Day Habilitation Without Walls.
Steve and Nicole remain grateful for interactions with AHRC NYC staff members such as Pilar Bernardes, a former Community Support Professional who moved home to Spain several years ago. They plan to attend Pilar's wedding in Barcelona later this year.
"Nicole's experiences with Pilar were transformational on an emotional and cognitive level," Steve said.
A lifetime of transformation for Nicole has left her father in awe. "She's an incredible person. It has been the greatest blessing in the world to be Nicole's father and to see her become the most beautiful blooming flower in the garden."