"Have you ever heard the sentence 'The quick brown fox jumps over the lazy dog'?"
Charles Umaña asks this question to Autumn Hester, a student enrolled in AHRC New York City's Melissa Riggio Higher Education Program at Kingsborough Community College, in an effort to demonstrate a typing exercise. The sentence, Charles explains, uses every letter of the alphabet. "When you have some free time and you want to practice your typing, remember that phrase," he encourages Autumn. Together, they try out the exercise.
Charles is helping teach Autumn this and numerous other functions on her iPad, which she received as a participant in the Individualized Technologies Strategies-Balanced Incentive Project, (ITS-BIP). "This is a grant-based research project where the primary goal is to correlate technology with independence," Charles said. "Technology is an important factor in everyday life. We use it on a regular basis, but not all the people we serve have access to it or know how to use it."
About the ITS-BIP Project
Thirty-two people from across three departments in AHRC New York City, (Adult Day Services, Employment and Business Services, and Residential Services) are taking part in the project. Charles, along with Tenzin Pao Dhashi and Glenna Sasiadek (all of whom are Individualized Technology Strategy Specialists), works with a specific group of people and assists each one of them for an hour per week, providing individualized technical support based on their needs. The ITS-BIP is supervised by Philip Proctor. People needing varying levels of support and many types of assistive technology are involved in the project. For example, Charles says, he is working with a person whose primary device is the HAPIfork, a utensil designed to assist people with difficulty eating in practicing safe mealtime habits. Among the goals for people in the project are health, academic success, employment, stress management, and community and social skills.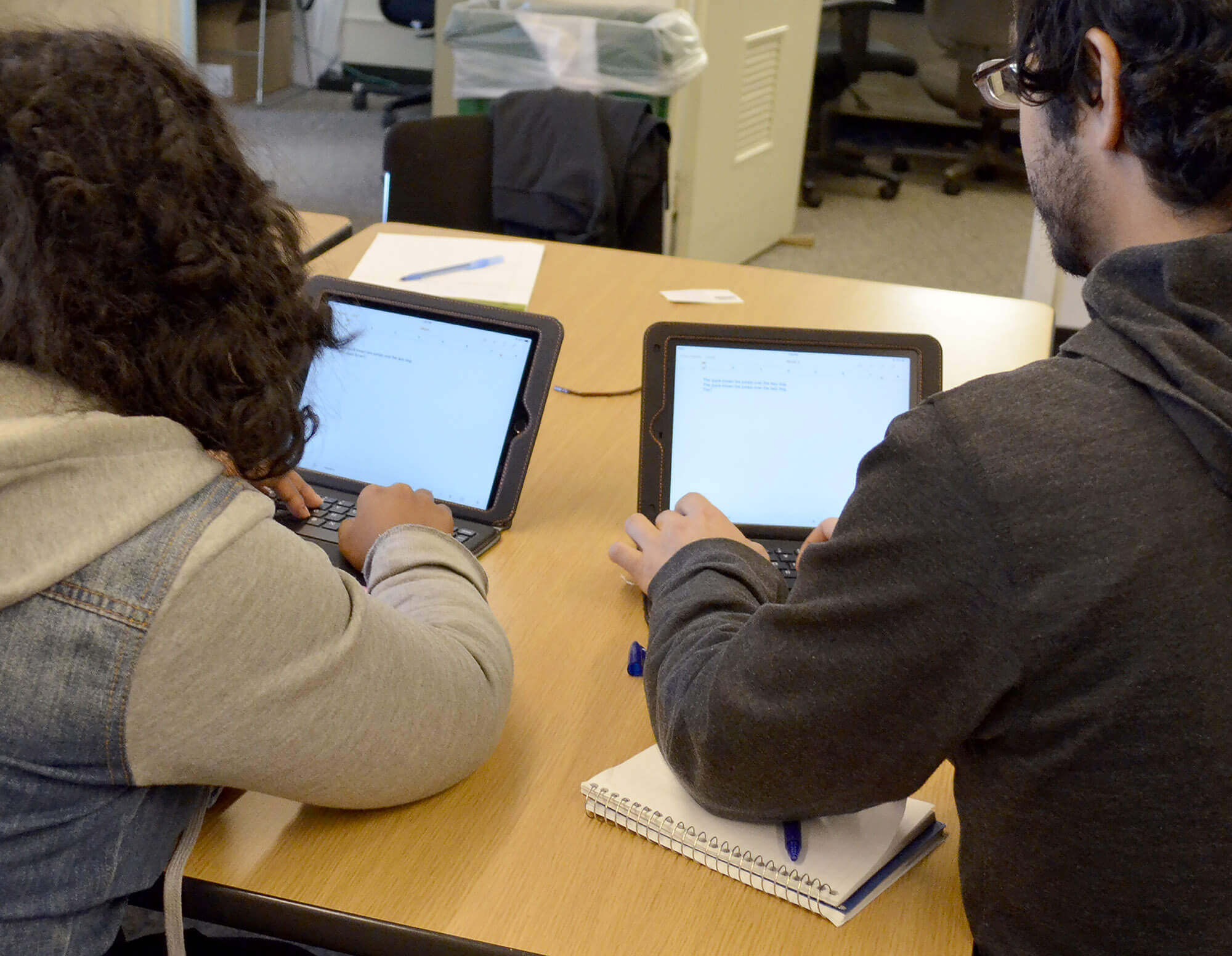 Autumn's hopes for her involvement in the project include improving her organizational skills and learning how to use technology to improve her everyday life both in school and outside the classroom.
"I want to know how to use the iPad so I don't have to use so many pages to do schoolwork," Autumn explains. She is interested in a number of subjects, such as history, marine biology, and especially education, as she wants to become a preschool teacher. She also wants to use the iPad for reading and research, and when asked what feature she is most looking forward to using, she excitedly said: "I can take pictures, of course!"
Goals for the Use of Technology
Charles said technology has been a huge factor in his success at AHRC New York City and that he is excited to share his knowledge of it with the people he supports. "My goal over time is to get [the people I support] to use tech on their own and to have staff be comfortable with it," he said. Although the project is still in its early stages, having started in mid-January (and lasting until September), he was able to share a heartwarming story. "One person I'm working with expressed a desire to relearn the piano," Charles said. He showed him a piano-based app on the iPad. "He began to play 'Mary Had a Little Lamb,' and I could see the emotion in his face."