On Monday, April 8, 2013, Executives and Board members from the Arc of the United States, (the Washington DC-based organization of which NYSARC Inc. and AHRC NYC is a chapter,) visited a few of AHRC New York City's Manhattan-based program locations, residences, and work sites, to learn more about the agency's programs, services and supports for people with intellectual and developmental disabilities.  The Arc's Chief Executive Officer, Peter Berns, Trudy R. Jacobson, Chief Development & Marketing Officer, were in attendance, as well as Nancy Webster, President, National Board of Directors of The Arc, and Mohan Mehra, Immediate Past President, National Board of Directors of The Arc.
Visiting AHRC New York City's Headquarters
The visit began with a meeting at AHRC NYC headquarters in lower Manhattan, where members of the AHRC NYC Board of Directors and Executive Staff discussed the variety of services offered by AHRC NYC, to about 15,000 people annually.
"We are in the process of visiting several chapters across the country," explained Nancy Webster, President of the National Board of Directors of the Arc.  "It helps us to stay connected to what individual chapters are doing, but we also learn from it.  We're particularly interested in how this chapter is incorporating managed care into its practices, and we're interested in seeing if this model might work for other chapters."
Visiting Pace University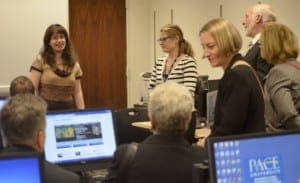 The first destination of the tour was PACE University.  Each semester, since the Fall of 2007, students attending PACE University's Seidenberg School of Computer Science have been collaborating with people supported through AHRC New York City's Day Centers, as well as students attending AHRC Middle High School, through a project called Service-Learning. Used by universities and colleges, service-learning engages students with meaningful community service projects, connecting them with community-based organizations to facilitate hands-on learning and reflection.  The PACE students develop relationships with students and adults with intellectual and developmental disabilities who participate in AHRC New York City programs, collaborating to create technology-based presentations that are focused on the achievement of their dreams and goals.
Visiting Day Services
The second stop of the tour was Walter and Evelyn Redfield Day Services, one of several AHRC New York City's Day Services facilities offering adults with disabilities a variety of services and opportunities. Using a person-centered approach, individualized and creative supports are offered to achieve meaningful goals based on the individual's strengths and preferences.
During the tour, members of The Arc of the United States met with several of the people who attend the center each day and witnessed several activities in progress, such as craft-making, cooking, singing, and art creation.  These activities are a small portion of the opportunities offered to adults, both young and old.  Work opportunities, residential services, recreational and leisure-time activities, and many additional services and supports assist these adults in overcoming obstacles and enriching their lives.  With respect to personal choices, AHRC NYC delivers support and services that are responsive to the unique needs of adults with intellectual and developmental disabilities, while promoting full inclusion in the community, as well as independence.
Visiting Hudson River Services
AHRC New York City's supported employment programs, offer people who are developmentally disabled, (and some disadvantaged youth ages 16-24 without disabilities,)  opportunities to enter the workforce.  Through paid and unpaid internship programs, occupational training programs in specialized fields, school-to-work programs, and daily job readiness programs, individuals are provided multiple avenues to prepare for and become successful in the workforce, while enhancing their social skills.  These services were the topic of the tour's third stop, at the Staten Island Ferry terminal in lower Manhattan.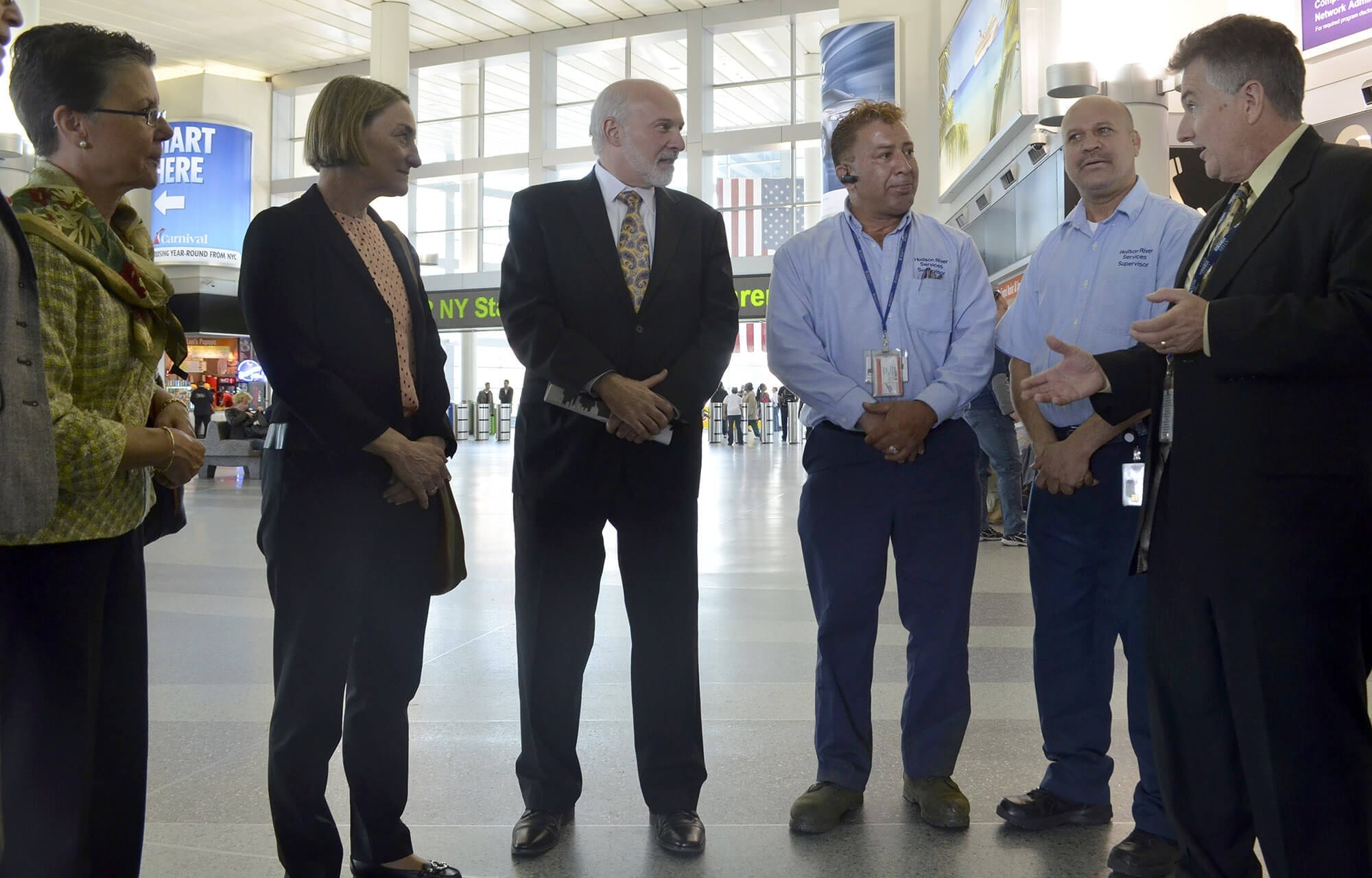 ---
Members of the Arc were introduced to several people who found employment at the ferry terminal through AHRC New York City's Hudson River Services.  Hudson River Services provides general office and building services including office cleaning, snow removal, landscaping, trash removal, and comprehensive floor care to businesses throughout the five boroughs.  During the visit, the HRS staff discussed their daily job tasks and expressed their commitment to their work, explaining to the ARC members their stories from the days immediately following Super Storm Sandy, when they worked together to make difficult commutes to the work site possible so that they could ensure the proper cleaning of the storm-worn facility.  Meaningful employment has added value to the lives of each of the HRS employees, and they were eager to share their stories.
Visiting an AHRC NYC Residence
The final location visited during the tour was Manhattan IRA, an AHRC NYC residence.  The agency provides a variety of residential options in group homes, supervised apartments, and independent settings.  With settings taking the form of traditional family-style group homes or supported apartments, the agency provides a warm living environment for residents with a range of support needs.
We thank the members of The Arc of the United States for their visit and their support of AHRC New York City's programs.