Marco Damiani
Chief Executive Officer, AHRC New York City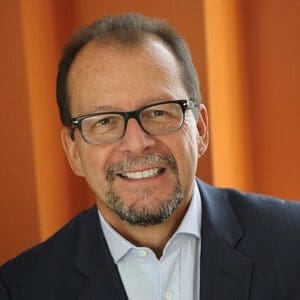 Marco Damiani has served as the Chief Executive Officer of AHRC New York City since 2017, working with its 5,000 mission-driven staff members to build upon the extraordinary 70-plus year legacy of AHRC NYC's commitment to social justice for children and adults with disabilities. A Forbes Best Mid-Size American Company supporting neurodiverse children and adults, AHRC NYC is one of the largest non-profits in the nation, supporting over 15,000 individuals, and their families.
Marco has spent his career in disability rights, fighting for full inclusion of neurodiverse people into their communities and society at large. As a Direct Support Professional, and then working for a non-profit at the Willowbrook State School as it began closing, he recognized the power of collective advocacy on behalf of people who are perceived as different. As Marco's career progressed, he devoted energy working to achieve health equity for people with disabilities, playing a major role in developing integrated care models for those underserved by the conventional healthcare system. He remains unwavering in this goal, even as he expands his focus to include comprehensive services and supports. He has served as CEO, and as a senior executive, in several other New York non-profits, and has experience working in state government.
In recognition of Marco's work, he has received numerous honors and awards. Among them is an appointment to the NYU College of Dentistry Dean's Strategic Advisory Council and recipient of the Kriser Medal, the College's highest honor; Pace University's Opportunitas-in-Action Medal; The Arc of the US National Convention of Executives Outstanding Lifetime Achievement Award; Certificate of Special US Congressional Recognition for outstanding and invaluable service to the community; The Excellence in Autism Award from Mental Health News Education; The Crain's NY Business and Empire Blue Cross Blue Shield Whole Healthcare Hero and The Catholic Health System Healthcare Hero Award. He has received Citations from The NYS Assembly and the Bronx Borough President for Meritorious Advocacy and Community Service.
Marco is a Mayoral Appointee of the NYC Community Services Board, NYC Mayor Eric Adams' Transition Team Member, Board Member of the Inter-Agency Council for Developmental Disabilities, NY Disability Advocates, Care Design NY, Metro Community Health Centers, and Cafe Joyeux US, an international network of cafes staffed by neurodiverse people. He has published in the Journal of the American Medical Association, the Journal of Policy and Practice in Intellectual Disabilities and the Journal of Social Work in Disability and Rehabilitation. Marco has an MA in Developmental Psychology from Columbia University, a BS in Psychology from Manhattan College, and pursued doctoral studies in Educational Psychology at NYU. He attributes his success to the collective work and shared vision of many colleagues over the years, their enduring commitment to promoting social justice for people with disabilities, and his steadfast commitment to Stand for Something.