AHRC New York City's 66th Annual Dinner was held on Saturday, May 16, 2015, at the Grand Hyatt in Midtown Manhattan. The rain outside did nothing to dampen the spirits, hearts, and minds of AHRC NYC leadership, staff, people supported, and honored guests, as all gathered to celebrate "two-thirds of a century of servicing people with intellectual and developmental disabilities," in the words of Steve Kroll, Executive Director of NYSARC, Inc., who was attending his first Annual Dinner. The evening was dedicated to Michael Goldfarb, who led AHRC NYC for 36 years and sadly passed away in October 2014.
The honorees at the Annual Dinner this year included Congresswoman Carolyn B. Maloney, representing the 12th District of New York, receiving the AHRC NYC Humanitarian Award; community activists Willie Mae Goodman and Marie Dickson (posthumously), receiving the AHRC NYC Anne Kraus Memorial Award; and Dr. Joel Manley, DDS, Clinical Director for Special Needs Dentistry at Staten Island University Hospital, and Dr. Jamal Kobeissi, Psychiatrist at ACCESS Community Health Center, receiving the AHRC NYC Service Award. Music was provided by Deena Miller Productions, and returning as Master of Ceremonies was Max Darwin.
Joshua Hirsch was the Chairperson for the Dinner this year. His father, George Hirsch, served on the AHRC NYC Board of Directors from its inception and remained there for 56 years. "AHRC was a second family to[my dad], and by extension a second family to me," he said. "In a literal and figurative sense, we will always be a family organization. That is our strength and that is our motivation."
Congresswoman Maloney Honors AHRC NYC
Congresswoman Maloney commended AHRC NYC for its dedication and commitment to serving those with intellectual and developmental disabilities. "AHRC is a bedrock, a lifesaver, a source of salvation and hope in people's time of need," she said. She also presented Laura J. Kennedy, President of AHRC NYC and President of NYSARC, Inc., with a framed portion of the official Congressional Record, detailing the legacy and services provided by AHRC NYC.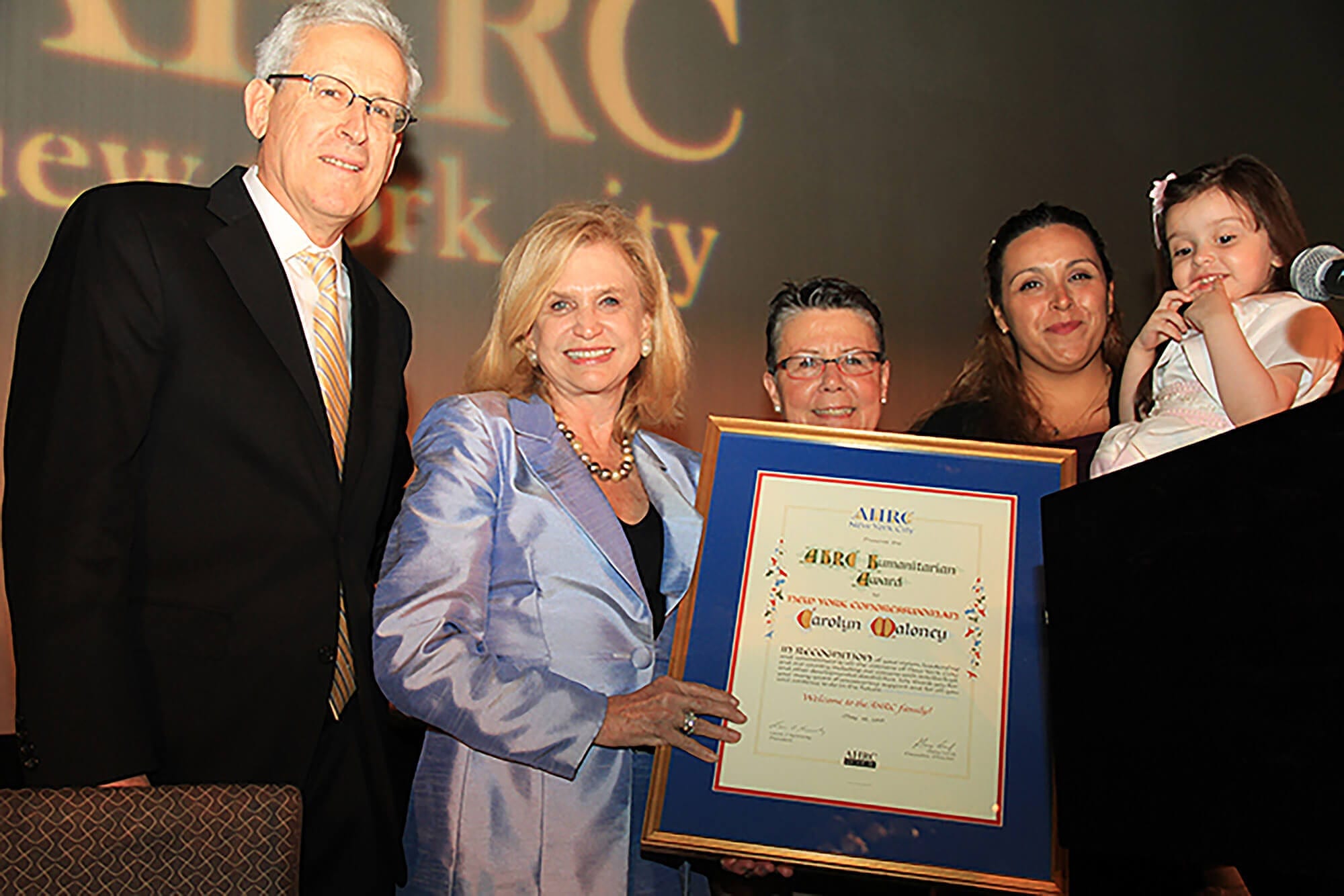 "To all of you with DD and ID, I salute you, I support you," she continued. "I am inspired by this evening, I am inspired by your stories, and I pledge to continue to support your right to a healthy, safe, and fulfilled life."
Recognizing Excellence
In her remarks, Laura Kennedy remembered two Board Members who had passed in the last year, Al Agovino and Joan Raineri, as well as the late Governor Mario Cuomo, who had previously been honored at the 57th Annual Dinner. Gary Lind, Executive Director of AHRC NYC, cited specific examples of how AHRC NYC has improved people's lives across a broad spectrum of programs. Dr. Manley recounted his past experiences as a teacher and how it influenced him in forming one-to-one partnerships with his dental patients, many of whom have special needs.
Dr. Kobeissi thanked colleagues at AHRC NYC and ACCESS Community Health Center. "Working with all of you for the last five years has been enriching personally and professionally, and truly defines the meaning of dedication, love, resilience, patience, and hope," he said.
Ms. Goodman implored parents to be advocates on behalf of their children with disabilities and made sure to mention the people closest to her heart. "This is not recognition for me or for you–this is recognition for the children at Willowbrook and the children of today."
We thank the event guests and honorees of the 66th Annual Dinner, as well as the dedicated staff who worked to make the evening such a success.