Gargiulo's, a hundred-year-old Italian restaurant and catering institution in Coney Island, was the venue for an unusual luncheon and awards ceremony on Wednesday, September 26. The luncheon was celebrating Friends of Asha Niketan, a not-for-profit that has for the last sixteen years been raising funds to assist people with intellectual and developmental disabilities (I/DD) in India. With residences in five of India's major sprawling cities, the organization founded by Usha Venkataraghavan, a former OPWDD Brooklyn Developmental Center Director known to many in the New York City I/DD community, has annually tapped the generosity of the people in our field to help those in developing nations with far fewer resources.
Over the years, executives and staff from government and other prestigious organizations have been honored at the annual fundraiser. This year, Marco Damiani, AHRC New York City's Chief Executive Officer, was recognized for his many contributions to the field over his career. Margaret Puddington, a well-known parent advocate who has been a trailblazer in the I/DD world for decades, introduced Marco. Margaret has known Marco for more than twenty-five years, during which time she worked tirelessly alongside him on the Manhattan DD Council until he stepped down as Chair and took on the position of CEO at AHRC New York City almost a year ago! Forty AHRC New York City staff and Board Members attended the event to cheer Marco on and support the charity.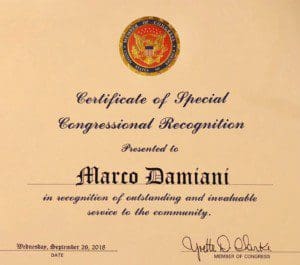 Marco expressed his deep gratitude to Margaret, and to his many colleagues, those at AHRC New York City and elsewhere, who have supported him over the years. In addition to the award from Friends of Asha Niketan, Marco was also presented with a certificate of special Congressional recognition from Representative Yvette Clarke in appreciation for outstanding and invaluable service to the community.
Awards and heartfelt words weren't the only parts of the event. The Italian marble floors at Gargiulo's were a perfect platform for the requisite Indian Temple Dancing that is always showcased at Friends of Asha Niketan celebrations.
The multi-cultural event was delightful, fun, and moving. The people that comprise the I/DD community are generally warm, giving people who just by virtue of the work they do, make the world a more humane and inclusive place. How fortunate we all are to be part of this community!