North Carolina Comes to New York City… to TEACCH
AHRC New York City has launched a new initiative, spearheaded by Associate Executive Director, Kathy Broderick, to become a Center of Excellence in the provision of services and supports to individuals with autism and challenging behaviors from childhood through the adult years.
In March, sixty AHRC NYC staff members from the many AHRC New York City program departments spent three days in a TEACCH (Treatment and Education of Autistic and Communication Handicapped Children) training session. The TEACCH approach is an evidence-based program for individuals of all ages and skill levels with autism spectrum disorders (and other challenging behaviors) developed and researched by the University of North Carolina at Chapel Hill.
Purpose of the TEACCH Training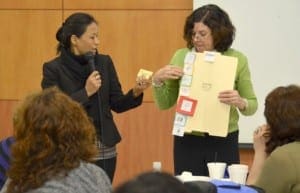 The three-day training will be followed up with the creation of user groups so AHRC NYC staff may support one another in the implementation of these strategies.  A cadre of AHRC NYC staff will also be sent to North Carolina for further training this summer and AHRC NYC plans on using trained staff to train additional staff in this very effective approach. In addition to TEACCH which is a broad framework for building a successful setting in which individuals with autism can succeed, AHRC New York City is embarking on a partnership with a local university to offer Board Certified Behavior Analyst certifications to staff.  These training efforts will expand each year with the hope of providing a large group of staff with the skills and techniques necessary to support individuals on the spectrum in the most effective way.
Individuals on the autism spectrum have always received services from AHRC, though many did not formally receive this diagnosis years ago.  This group of individuals is without question exponentially increasing.  AHRC currently serves several hundred school-age children in specialized programs for individuals on the spectrum that have been in operation for over a decade and are well respected in the educational community.  AHRC New York City has recently made the commitment to become a Center of Excellence in service delivery for individuals with autism and challenging behaviors, particularly adolescents and adults for whom specialized services are sorely lacking.
About the TEACCH Framework
The TEACCH approach is based upon an understanding of the characteristics of autism and the identification of strategies that support independence and success. Strategies include providing physical and visual structure, visual schedules, and clear work/task organization.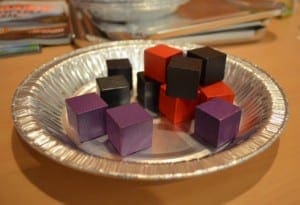 Focusing on the visual strengths of people with autism, TEACCH framework allows people to be self-directed throughout the day because the embedded nonverbal cues and scenarios are natural.  The TEACCH program uses schedules and visuals, with the goal of reducing distractions.  Based upon the idea that individuals with autism struggle with language, this framework uses numbers, colors, and other nonverbal cues as ways to organize.  When used, the framework may reduce behavioral issues, and allows the people employing it to sustain task engagement.
TEACCH in Practice
"Following a schedule is the foundation of further instruction of people with autism, under the TEACCH model," says John Goodson, Education Training Director, School Age Programs, Educational Services.  "This training is about how to organize a room/teaching space to facilitate schedules, tasks, and learning for people with autism who receive a higher level of support. When teachers learn how to embed the right types of tasks into the model, there can be a dramatic increase to the child's productivity."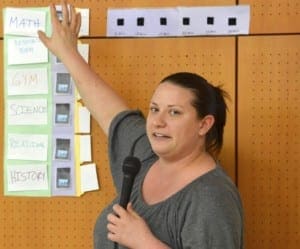 TEACCH, which requires less verbal instruction and less prompting by the instructor, has been in use in AHRC New York City's Educational Services Department for a number of years, implemented by Director of Educational Services, Christina Muccioli, Associate Director of Educational Services, Madelin Rivera, and Tom Sposato, Program Coordinator, School Age Programs, who have attended TEACCH training hosted at UNC, and trained Teachers in the School-Aged programs. "It was amazing to see the agency invest in this research-based tool to help better deliver curriculum, instruction, and development of life-long skills for our students and adults," says Tom.  "I do not believe TEACCH is the be-all-end-all, as far as strategies go for helping people with autism spectrum disorder, but it is a great tool to help people be most independent. I find the principles of ABA (Applied Behavioral Analysis,) and TEACCH overlap in many ways, and can work together harmoniously."
The TEACCH framework will soon be utilized across departments at AHRC New York City, facilitating AHRC New York City's goal of becoming a center of excellence for autism services.