AHRC New York City held its Second Annual Social Work Intern Appreciation Luncheon on Friday, April 8th at AHRC NYC Headquarters. Organized by Seth Krakauer, Employee Development Manager, the gathering featured a number of heartfelt speeches, examples of the accomplishments the social work interns have made, and a chance for the interns to connect with one another and with AHRC NYC staff and leadership. Each intern received a personalized thank you letter and small gifts of appreciation.
AHRC New York City provides University Internship Opportunities for college students seeking course credit and for people who are preparing for graduate school. The goal of our Internship Program is to attract talented, dedicated professionals to the field by providing educationally-sound placements so that students are introduced to the challenges faced by people with developmental disabilities, guidance, and supervision from professionals who are certified to provide field instruction.
Honoring Our Social Work Interns
"What you do, that individual interaction that you've had with people over this last year, you have no idea what the ripple effect of that is," Gary Lind, AHRC NYC's Executive Director, said. "As an agency, we're all about building relationships with people because that enables them to live the life that they want. It makes people feel connected, it makes people feel empowered, and that's so just so critical and important."
Gary added that honoring our Social Work Interns is especially important to him because he received his master's degree from Syracuse University in social work. "More than anywhere else," he said, "I want to reinforce that social work has always claimed its rightful place as the movers and shakers on social justice. What we're really about is affirming social justice for everyone in our society."
Recognizing the Guidance of AHRC NYC Professionals
Dr. Raymond Franzem, AHRC NYC's Director of Internships, highlighted AHRC NYC staff members that have worked closely with the interns, particularly thanking Charlotte Diaz, Director of the Howie Stone Day Services in the Bronx. He also commended three of the colleges that AHRC NYC has worked closely with over the years – Mercy College, Lehman College, and Fordham University.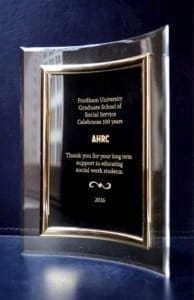 Dr. Frazem presented AHRC NYC with a plaque from Fordham thanking the agency for their years of partnership as the Graduate School of Social Service celebrates its centennial anniversary.
"When you supervise someone you learn as much as you teach," Dr. Franzem said. "Thank you, we really appreciate you, and we're proud of you."
Additionally, Dr. Franzem received the Bene Merenti Medal from Fordham University on Tuesday, March 8, 2016, in recognition of his more than twenty years of service. The certificate that accompanied the medal states,
"Dr. Franzem works diligently to provide viable field experiences for up to 20 Masters in Social Work students each year and has come to the rescue time and again by finding a place for 'just one more student'. He has helped shepherd hundreds of MSW students through their internships."
Interns Make a Difference in a Variety of Ways
Brenda Weiss, Supervisor for Residential Interns, spoke about the impact of the interns in a residential setting, including taking residents out on community outings, creating memory books, and focusing on person-centered planning. "One of the most worthwhile professional experiences I've ever had is to see interns succeed," Brenda said.
Carlton Walton, who worked at the William F. May Day Services in the Bronx, prior to his internship, worked with Karina Khani to start an integrated basketball program, also in the Bronx. "We get to see guys competing without the restriction of saying 'You have a developmental disability,'" Carlton said. "They teach us as well, in learning how to organize and how to be a team player."
Ron Harris and Caroline Okoyo worked closely with seniors at the AHRC Fisher Day Services in Harlem. Ron organized visits by seniors receiving services through the center to four local senior centers, where they have seamlessly become part of the community. "We work with each other and build natural supports and relationships. They are having fun with their peers," he said.
Caroline drew on her Kenyan heritage to introduce basket-weaving to the seniors. "Our seniors direct the other seniors on how to weave the baskets now," she explained.
Their Journey Has Just Begun
Two interns who will be continuing their work with AHRC NYC over the summer at our camps are Amie Prince and Candy Bettiago. "I have an interest in helping this community," Candy said. "I don't mind taking the summer to help them too. That will help build my mind."
In addition to Amie and Candy working at the camps over the summer, a number of interns will be hired as full-time employees with the agency. AHRC NYC thanks all of the social work interns for their hard work and dedication to supporting people with intellectual and developmental disabilities.