On Thursday, June 7, 2012, AHRC New York City staff, residents, and families and members of the community came together to name the agency's newest residential facility, celebrating the contributions of Willie Mae Goodman and Marie Dickson, in fighting for the rights of people with intellectual and developmental disabilities.
Dedication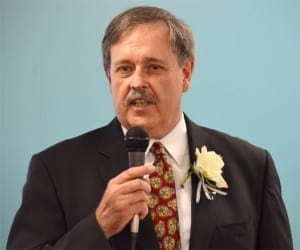 "It's been a long time of looking forward to this day and it's finally here!" said John Flaherty, Director, Residential Services, as he welcomed the event's guests.  "We're very proud to have opened our program here.  We've mirrored it on the work we've done with our Bloomberg Apartments. Between Dickson-Goodman and Bloomberg, over 30 people have moved into one of our apartments, from nursing homes, or long-term care centers.  Because of your support, and the work of everybody here, their quality of life is significantly improved.  Make sure you take some time and visit our homes, and talk to us about what we do here, and support us as we move ahead."
Mel Gertner, Board Member and former President of AHRC New York City, described the discussions which led to the construction of the new residence, as the Board of Directors noted an aging population of people served by the agency, and decided that nursing homes would not be an appropriate placement for them.   Monica Santos, Associate Director, Residential Services, thanked the staff of Dickson-Goodman, for their constant efforts to ensure the safety and comfort of the residents.  "I want to thank Miss Willie Mae Goodman and Miss Marie Dickson…  Miss Goodman has helped to welcome us to Harlem, to this community that is so rich for the people who have moved into this home. People are out in the community. They're taking advantage of museums, the Apollo Theater, all of the shops on 125th street. It really has been a wonderful place for people to live and to work."
A Family's Perspective
Gustavo Villanueva, spoke about his sister, Fanny, and the circumstances that led her to become a resident of Dickson-Goodman, and of the support that his sister currently receives.  "People here have been very caring, and understanding, and reassuring, both on a personal level for Fanny, as well as for the family. It began with my mom coming to visit every day. There's a bond there between mother and child, as you all know, and it's beautiful that the staff here has been wonderful and caring and open and communicative. We're very thankful as a family to all of you, for everything that you do. We've noticed a lot of personal growth with Fanny.  Fanny has grown up and she's been very independent."  Gustavo thanked Monica Santos for her support and guidance during the time when his family was seeking placement for Fanny.
"I am for the special children, who need our voice…"
"I know some persons here are not aware of Willowbrook," said Willie Mae Goodman, one of the honorees of the day.  " My child, and so many kids were in Willowbrook, so they didn't have the luxury that some of the kids have today.  We had to fight for everything for our kids. We had to fight for their wheelchairs. We had to fight for their socks, their shoes, their food…  We were the parents, many years ago, who stood on the wall and fought for our individuals. This is the past, the history, and the future of the day. And the only thing that we've ever asked anyone to do is to try to make our children more comfortable, to let them live in a clean environment…  The special children – That is what I'm all about. I am for the special children, who need our voice, who need our legs, and need our eyes, and we're the only ones who can speak out on their behalf."  Concluding her remarks, Ms. Goodman thanked Community Board Eleven, for their support in making a dream come true, and remembered her friend, Marie Dickson, who was on the Community Board.  "I love Miss Dickson, and today… I can't say enough for her. Thank you."
Honoring Willie Mae Goodman and Marie Dickson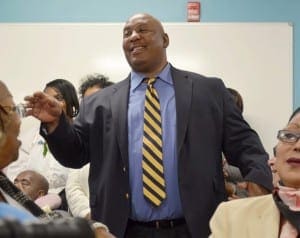 David Given, who was Chairman of the Community Board during the time when Willie Mae Goodman first approached him with her request that the Board create a committee on Mental Retardation spoke of Ms. Goodman's persistence and dedication to children with disabilities. "She was a strong personality. She was a very loving individual, but if she had an opinion and she thought that you were wrong, she told you so!  Miss Goodman and Miss Dickson were the perfect combination. I can only hope that another Miss Dickson comes along to help us in the future," said David.  "We welcome our new residents. We welcome our new neighbors to our community. They are now part of the East Harlem Community, and we say 'Welcome!' Our presence here says, 'Welcome to our neighborhood! You are a part of us, and we are a part of you! Miss Goodman, keep on fightin'!"
AHRC New York City thanks all of the people who were instrumental in the creation of the Dickson Goodman residence, including Barbara Kaplan, Marcia Richman, Eric Forsythe, Peter Korsberg, Dr. Sheryl White-Scott, and Monica Santos.