On Friday, June 1, 2018, management staff from across the five boroughs of New York City came together to attend AHRC NYC's First Annual Leadership Summit. Hosted at the Penthouse Conference Center of the iconic Starrett-Lehigh building in West Chelsea, the event provided leaders from throughout the organization with the opportunity to further their ongoing commitment to person-centered excellence, innovation, advocacy, and leadership.
The theme of the Leadership Summit was Raising Expectations: Inspiration, Innovation, Vision Alignment, and a Call to Action.
The overarching goal of the day was to inspire and engage the organization's management team and Board members, promote innovation, present high-level leadership training, and generate a robust discussion around the Medicaid Redesign Agenda for people with I/DD. A key focus was to forge even stronger engagement with all AHRC New York City stakeholders  –  individuals with I/DD, their families, Board members, AHRC management, staff, and corporate partners, as well as elected and government officials.
As attendees finished breakfast and took their seats, they were greeted by the event's Master of Ceremonies, Shauna Lozada, Marketing and Business Development Director for AHRC NYC's Employment and Business Services. "I had the honor of working with so many wonderful people within the agency in planning this awesome event," she said.
Expressing gratitude for the many corporate sponsors/partners who shared their time, efforts, and material goods to help make the Leadership Summit a success, Shauna asked the audience to give a special round of applause for Mitchell Grant, Operations Manager, RXR Starrett Lehigh, whose generous donation of the event space helped to make the summit possible.
Attesting to the Value of Our Services
The day's first guest speaker was self-advocate, David Stone, who recounted his experiences from the past two years of working with Shauna Lozada in AHRC New York City's Employment &  Business Services, (EBS,) during which he learned workplace skills and the value of teamwork. "My involvement with this organization has really been the most consequential period of my life so far," he said. Prior to becoming involved with AHRC David encountered many challenges during his school years, his time with ACCESS-VR and his search for appropriate work opportunities.
"I am forever grateful and appreciative of the sacrifices and the work of every single person sitting in this room," said AHRC New York City's Board President, Angelo Aponte. Angelo noted the extraordinary care and compassion of the AHRC NYC staff that touched his own life and the lives of thousands of people with disabilities each day.
Laura J. Kennedy, President of The Arc New York provided testimony about her own family's experiences with AHRC New York City staff that have cared for her daughter, Julia. "Julia is living in her hometown community of Staten Island in a well-supervised residence, managed by an amazing team of dedicated AHRC staff. She has a rich and full life because of all of you."
"We'll move forward, innovate, and thrive as an organization, in spite of the challenges that we're all facing," said Sharyn Van Reepinghen, AHRC New York City's President-Elect. "Leadership is an essential ingredient, and today's leadership summit is a new beginning, so take advantage of this."
AHRC New York City's New Leadership
Marco Damiani marked his 6th month anniversary as AHRC New York City's CEO by welcoming a room filled with passionate and talented managers, many of whom have served AHRC NYC for decades. He thanked them for their vision, activism, and innovation.
Then he proceeded to introduce Assistant Deputy Commissioner of OPWDD Abiba Kindo. "I want to acknowledge that our success over the decades has been because of our partnerships, and one of the most important partnerships we've had has been with government."
In addition to partnering with appointed government officials, later in the morning, Alden Kaplan, Senior Policy Advisor, spoke briefly about AHRC New York City's partnership with our Legislators, to ensure that our most vulnerable citizens get what they need.
Diana Ayala spoke about the importance of innovative services for people with disabilities. As the Chair of the Committee on Mental Health, Disabilities, and Addiction, she plans to serve the provider community as a partner in government.
Dancing in the Rain:
How to Thrive and Lead in Changing Times
The Leadership Summit aimed in part to encourage AHRC New York City managers to examine their own roles within the organization and aimed to suggest new practices for thriving during challenging times.
---
Prior to introducing the keynote speaker, Marco welcomed everyone and provided an overview of the day, identifying several goals: Inspire, Inform, Innovate, Imagine, Interact and Integrate. He briefly outlined a servant-model of leadership in which top-level managers must be responsive to our staff and front-line staff and managers must be responsible for providing excellent support and services. Marco stated that "While traditional leadership generally involves the accumulation and exercise of power by one at the 'top of the pyramid'," servant leadership is different. The servant-leader shares power puts the needs of others first, and helps people develop and perform as highly as possible."
Marco then introduced Lou Radja.
"We're meant to be rivers, not reservoirs," guest speaker, Lou Radja proclaimed, challenging attendees of the summit to look within themselves to find what each leader can bring to the table to push our mission forward. Lou Radja was truly an inspiration to everyone in the room! It was clear Lou was a leader! He spoke of leadership in a way that was simple and accessible, yet quite profound. The audience's overwhelmingly positive response to him was truly palpable.
In a key component of his talk, Lou highlighted personal and professional virtues that when used, can help people to find success and fulfillment.  He first suggested that instead of approaching problems with an eye toward the things that aren't working, we can show gratitude for the things that have worked well, and build on them.  "Find your WHY! Write the sentence, 'I exist to…' and then fill in the blank," said Lou, prompting attendees of the event to think beyond AHRC New York City's Mission Statement, and to develop their own personal/professional mission statements.
Emphasizing that it is an unavoidable factor in all of our lives, Lou recommended that we embrace change, learn to anticipate it, and learn how to leverage it to create new opportunities through collaboration. "Success is what you do after you do what's expected of you," he said. "Meeting expectations is good but exceeding them is better! That's where AHRC will really create separation and greater impact for the people we serve!"
Marco Damiani shared his WHY with attendees at the end of the day:
To SEE: Support, Engage and Empower others to see the potential in those around us, passionately pursue and enable them to realize their possibilities and experience the positive energy of doing good.
He encouraged everyone to find their own WHY!
Panels: AHRC THE INNOVATOR
In an organization the size of AHRC New York City, with a menu of offered services that is unsurpassed, and a creative staff who are committed to the people we support, it is difficult to keep abreast of what is happening! As a result, everyone at the Leadership Summit sat thoroughly engrossed as two panels made up of AHRC mid-level supervisors, and moderated by Harriet Golden, AHRC's Vice President of Programs & Service Innovation, and Steve Towler, Vice President of Programs & Business Development, briefly described some of the innovative work in which they are engaged at AHRC New York City.
Robert Kranpost, a recent graduate of AHRC New York City's Melissa Riggio Higher Education Program at the College of Staten Island spoke about the value he gained from his postsecondary education, including academics, internship opportunities, civic engagement, and student life.  Dhanashree Gadiyar, of ArTech at the Howie Stone Day Services, spoke about the impact the program has had on artists with disabilities who have become valued members of the arts community in the Bronx. Jeanelle Hector, Director of Day Service's Fisher Day Services spoke about Urban Innovations, a program connecting people we support with already existing community initiatives in Harlem. Ruba al Khalil, a Supervising Behavior Analyst in Day Services described Home-Based Partnerships to assist families in dealing with challenging behaviors at home with techniques that have worked in the day center. Jen Teich, of Individualized Supports, defined customized housing, how it is funding and what it looks like on "my block." And Beth Ann Silvestri of Residential Services spoke about the difference the MedReady system of medication administration has made in the Department of Residential Services as regards medication compliance and independence for people who can now administer their own medication.

The Project Search employment program was described by Michele Shapiro, and the Transitions Program, a collaboration with District 75 the NYC Department of Education was explained by Laura McCaffrey, both of Employment & Business Services. Continuing with the theme of transitions, Estefania Flores and Frank Kule spoke about the Education Department's Transition Program for students graduating from AHRC's Middle/High School and entering the adult services world. Allyson McGlynn of In-Home Services described a TEAACH & Visual Supports in the Home Environment model for dealing with challenging behaviors at home that she has implemented.  Laura Cucinotta, of Quality Improvement, spoke about the successful Person-Centered Apprenticeships developed to cultivate staff in the use of person center approaches. And Edie Weber and Phil Proctor both working in AHRC Administrative Departments presented the Importance of Data – Technology and Metrics, in their presentation of the new Agency Information Platform that is being developed and an illustrative demonstration of what we can do better as regards decision making if we have data to help us make decisions.
System Innovations
Marco Damiani opened the next Key Note discussion and panel about systems innovation by talking about AHRC New York City's role in the development of Partners Health Plan, (PHP,) and Care Design New York, both being leading-edge system innovations that were designed to move us toward managed care. Marco then introduced Arthur Webb, former Commissioner of OMRDD (the forerunner to OPWDD), as well as, the Commissioner of several other State agencies spanning more than four decades.
Arthur Webb's Leadership Summit presentation was about the Business of Caring vs. the Art of Caring. He outlined the State Policy and the direction in which we, as a field, are being taken. And he spoke about managing this future by creating it! His talk was provocative and in many ways prescient. He presented the trends impacting the field, key challenges that are at one and the same time opportunities, and he put a positive spin on all of it that will help us create a roadmap for success.
Arthur began his talk with a slide that read: Keep Calm There's A Paradigm Shift Going On. He outlined New York State's 1115 Waiver and the transformation to a managed care delivery system with the goals of creating efficiencies in the Medicaid program, improving access to health services, and better health outcomes. With AHRC's commitment and leadership, he urged us to take charge and lead the way. He described "consumerism" as a force that is radically changing our world, our society, and our economy, and he stressed that our person-centered values were an indication that we strongly believe in the voice of the consumer. Arthur encouraged us to think out of the box, to be willing to try new things, and to make sure that the consumer voice not only gets heard but that we help support policies that maximize the opportunity to achieve independence for all.
A Panel Discussion – "What does this mean for AHRC?" moderated by Marco Damiani, followed Arthur's presentation. Panelists were: Anthony Lazanas, parent, AHRC New York City Board Member; Kathy Broderick, Senior Program Advisor; Andy Phadt-Trilling, Day Services; Steve Williams, Human Resources; Ife Okoh, AHRC New York City Melissa Riggio Higher Education Program. What would normally be considered a very dry subject matter, was further brought to life by enthusiastic and thoughtful reactions to Arthur Webb's address.
Strengthening Our Valued Partnerships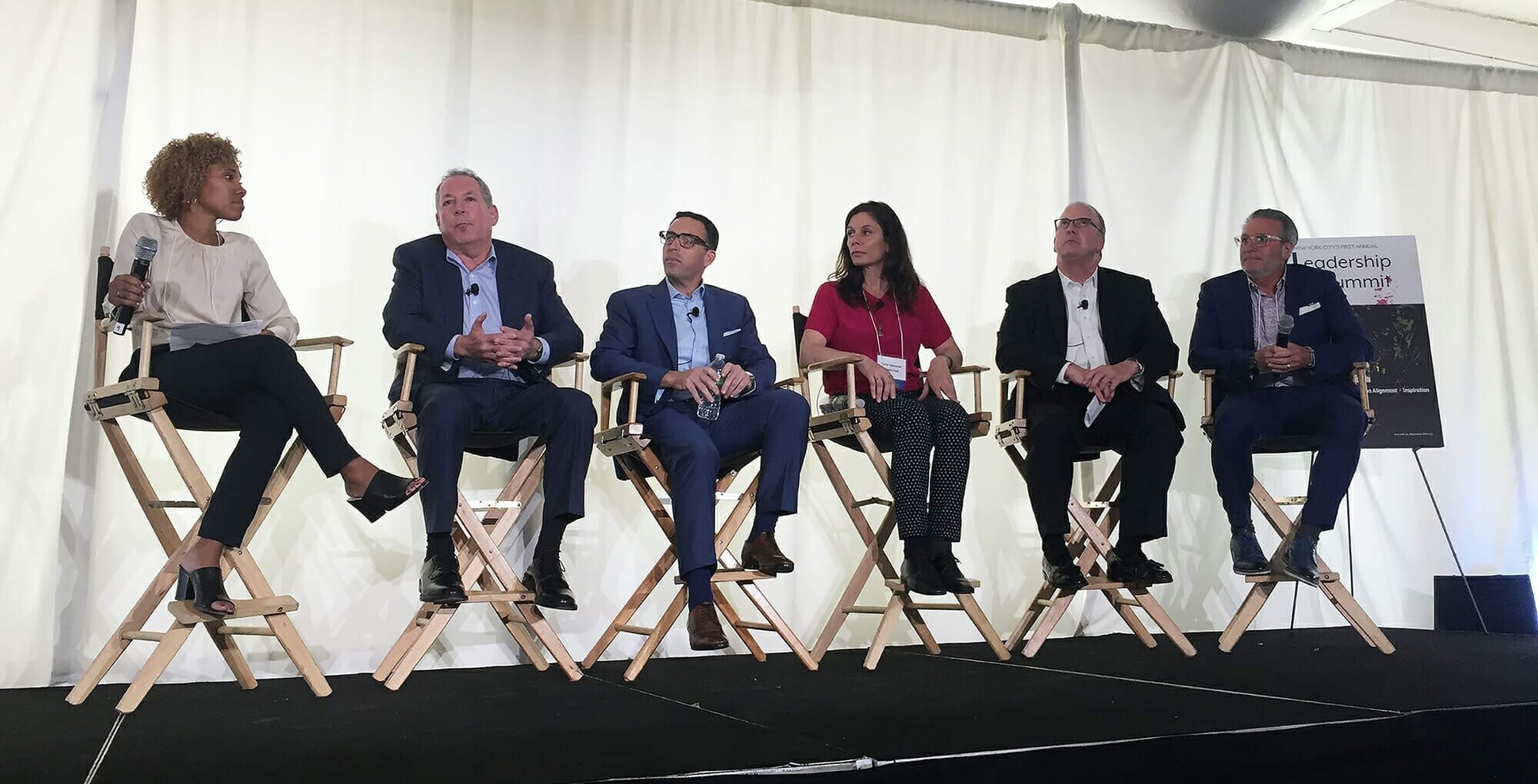 AHRC NYC's CFO, Amy West, moderated the event's Corporate Partnership Panel, which included: Howard Siegel, CEO, Irwin Siegel Agency; Tara Sansone, Deputy Executive Director, Material for the Arts; Shauna Lozada, Marketing and Business Development Director, EBS; Robert Doherty, Market President for New Jersey, Bank of America Merrill Lynch; Mitchell Grant, Operations Manager, RXR Starrett Lehigh; and Philip Deangelo, Managing Director, Focused Wealth Management.
Recognizing our partners and hearing what they have to say about their work with us and how that work has enriched their corporate cultures and their personal lives was heartwarming and very valuable.
Notables:
The day was full of good food, good cheer, and good conversation. AHRC New York City's group "AHRC on Broadway" performed a Broadway song medley during lunch. And Jonathan Negron, a person supported at Weingold Day Services, played music he had composed while people were waiting in line for food. Very moving videos were played throughout the day, (You can find a list of links below). And raffle prizes galore were won by lucky raffle ticket holders and added continuous excitement to the day.
The day ended with the Andy Bassford Duo playing mellow music and for those who hung out till near the very end, Marco Damiani grabbed an extra guitar and played along with them to raucous applause.
Videos Screened During the Event:
Sue Austin, from Devon, UK, is a disabled artist who aims to change perceptions of the wheelchair. For her, after spending years bedbound, the wheelchair gives her freedom. (more…)

See Me, for Me – Jamel Mills
Meet Jamel, who uses an Augmented and Alternative Communication device to communicate his words, but whose self-expression extends beyond words to performance and poetic movement. (more…)
The Human Connection to Patient Care
If you could stand in someone else's shoes… hear what they hear. See what they see. Feel what they feel. Would you treat them differently? (more…)
Thank You, Dale Hensley
Dale created a program that pairs people with disabilities who are supported through AHRC NYC programs with Broadway performers, and the difference it has made in their lives can be seen on their faces during (more…)
Pro Infirmis – Because who is perfect?
Disabled mannequins will be eliciting astonished looks from passers-by on Zurich's Bahnhofstrasse today. Between the perfect mannequins, there will be figures with scoliosis or brittle bone disease modeling the latest (more…)
The Leadership Summit accomplished key goals: of being a significant event that will generate multiple opportunities throughout the year for continued discourse, planning, innovation, and implementation of actions that enable greater advocacy and access to services.
The generation of opportunities has already begun! If you have an idea that you would like to submit, please send it to Leadershipsummit@ahrcnyc.org, and stay tuned for information about activities that will be an outgrowth of the June 1st event!