Colorful collages and arts and crafts from years of travels and experiences line the walls in Tisa French-King's workroom. Located in the heart of Harlem, the space has served as the jumping point for Tisa and the people she supports to become ingrained in their neighborhood as part of Betty Pendler Day Services's Without Walls program.
"Every week we go and help out in the community," Tisa said. "On Tuesdays and Wednesdays, we work in Mount Olivet Baptist Church making grocery bags. And on Fridays, we help people take food home at Salem Methodist Church. We serve over 300 people there!"
Urban Innovations and Job Path
Tisa is an integral part of Urban Innovations, a Harlem-based organization that supports people to connect and contribute within their home community. It was formed out of a partnership between AHRC NYC and Job Path, another service provider. "We wanted to have our group where [people receiving services] could be rooted where they live," Tisa explained. It has been a great success, spawning an offshoot group, Revolutionary Seeds, where people receiving services create a variety of materials and sell them inside and outside Harlem.
---
In fact, Tisa and two people receiving services, Daseana Almond and Chris Kelly, traveled to Baltimore recently to represent Revolutionary Seeds and Urban Innovations at a conference. "The fact that I got a chance to go away with them was amazing," Tisa said. "They don't get to travel that much. They were so comfortable being open, meeting new people, and being in a new environment."
Tisa began in AHRC NYC over nine years ago, shortly after graduating college. She has gotten immense personal gratification from her career. "It gives me a sense of giving back," she said. "We're enriching and enhancing someone else's life. I definitely view them as my family now."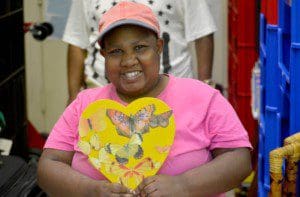 Being a Community Support Professional has also allowed Tisa to share her passions, including a knitting class in the wintertime. "I get so excited to see the look in their [people receiving services] eyes about the small things that we take for granted," she beamed.
Tisa's committed work has earned her praise from both her colleagues at AHRC NYC and from her partners in the community. "Tisa has worked extraordinarily hard to make sure the people she supports have opportunities for true belonging in their communities," Kate Buncher from Urban Innovations and Job Path said. "She takes every opportunity to find creative ways to amplify their gifts and talents and is always encouraging. Her sunny, upbeat personality makes her a joy to be around and her enthusiasm lifts us all up."