Direct Support Professionals Recognition Week is September 13-19, 2020. Now more than ever, DSPs everywhere deserve our full support and appreciation for the life-saving work they do every day. It is our privilege to celebrate the work they do to help people with disabilities make the most of their rights and opportunities:
AHRC New York City's Greenberg residence in the Bronx is not only a vibrant home for people with I/DD—it is also a place where two remarkable professionals are providing compassionate care at the most critical time. Joseph Mercedes, Community Support Professional, and Di-Nayzha Jenkins, Direct Support Professional, are sharing their passion for helping others with Greenberg's residents.
"I was just looking for a job one day, that's it. The supervisors called me and told me a little bit about what this job entails," Joseph said. "I thought that this is just another way for me to help others. That's why I took this job–I like it so much and I've been with AHRC for almost three years now."
Di-Nayzha echoed Joseph's sentiment, saying "I like knowing that I'm making a difference in someone's life. It's me personally fulfilling someone else's life and it makes me feel good."
Similar Supportive Philosophies
Prior to the onset of the pandemic, Joseph worked at the Howie Stone Day Services in the Bronx. He learned that he needed to bring his own interests to the table to best support the people he worked with, including an appreciation of the arts.
"Creativity allows them to express themselves and what they do, what they like, what they enjoy. There were people that like the Yankees or Black Panther, all kinds of things that these guys love that they put on paper or on canvas or they digitally remaster, and that's what I encourage the most. I try to incorporate things I like, too, like music and production."
Di-Nayzha similarly feels it is important to create a bond through activities and daily responsibilities. "I get to connect with the people we support through car rides to appointments, and they get to know me too," she explained. "When one of the residents is coming to me and letting me know that I did something good for them and them saying thank you to me, that's one of the things that makes me come to work every day."
The COVID-19 pandemic strengthened these relationships even after immeasurable losses. Two Greenberg residents passed away after catching the virus, leaving behind a heartbroken home.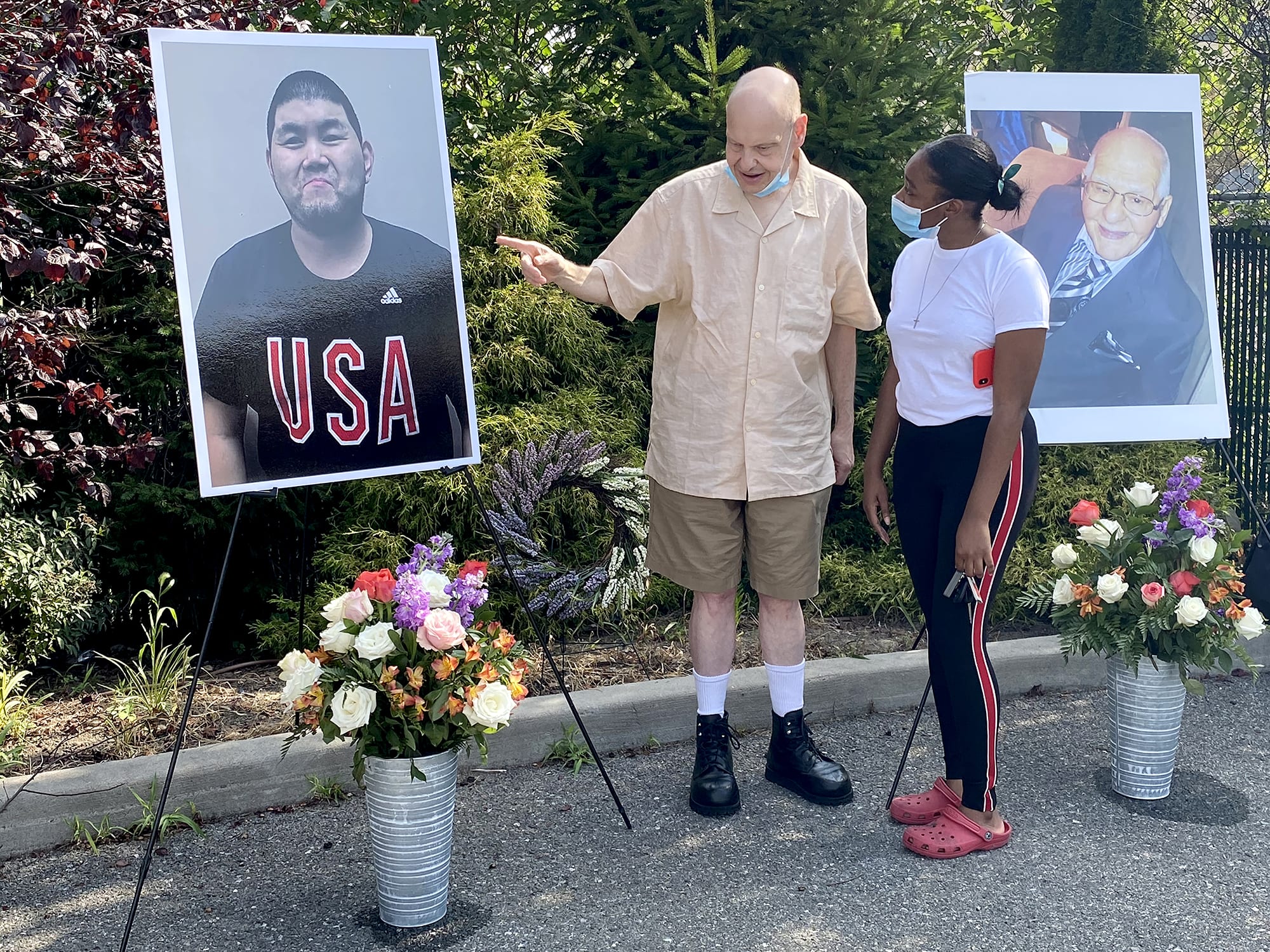 ---
"The first person who passed was one of the first people I got to personally know here," Di-Nayzha said. "I tried to pull it together and told their friends that we would all be safe. It was tough, and Greenberg house it still fighting. We still reminisce about the little moments we had with them."
Building Meaningful Relationships with Colleagues and People Supported
With the pandemic temporarily shutting down day facilities, working in Greenberg has given Joseph new opportunities to do what he loves. "Being here, it's very different from being at an actual facility–it's their home," he explained. "You get to understand them a lot more because this is where they're most comfortable. There's more of an intimate kind of relationship."
---
Joseph and Di-Nayzha's relationship-building abilities extend from the people they support to their colleagues and supervisors.
"Di-Nayzha has always gone above and beyond in working at Greenberg and looks for opportunities to try new things with the men and women and has their personal preferences down pat," said Alecia Sturge, an Assistant Director with Residential Services. "She has been especially important to the running of Greenberg during this pandemic in the midst of illness and the loss of people we have known and loved."
Alecia praised Joseph's "care, patience, and understanding when it comes to the people we support," a belief seconded by Charlotte Diaz, Director of the Howie Stone Day Service.
"Joseph has been extremely independent and highly motivated. Initially, he was responsible for 16 residents with no ADS partner!" Charlotte said. "He hasn't blinked an eye about doing what is needed.  He has followed all directions accurately. This is an entirely new side of him that we discovered through this new normal."