The Lodge welcomed members of AHRC New York City's Board of Directors, the Camping Committee, and administrative staff on Monday, August 14th, for their annual visit to the camp.  Visitors had the opportunity to meet guests of the Lodge; tour the facility; see programs such as archery, swimming, bowling, and horse-riding in action; and were able to discuss some of the highlights of the current summer season with the directors.
New Administration Building
One additional bonus for the day was the official opening of the new Administration Building at the Lodge.  The old building was destroyed in a fire in May 2016 and a temporary building was put in place for summer of 2016.  However, the plan was to build a new structure in time for camp 2017, and thanks to the help of many departments and staff, we successfully met that goal!
The new building is in a lovely setting, designed to fit in with its surroundings right near the lake, and houses all technology infrastructures for the facility.  Guests are able to utilize the space for phone calls home and it is really helpful to have the accessible bathroom so near to boating and lake activities.  Staff members are able to effectively manage all the needs of running the programs from this new space.
To All Who Made This Possible
It was amazing that the construction project was completed in time for the opening of camp this year and so we want to acknowledge the team effort that this took with an official ribbon-cutting ceremony.  Representatives from Crawford Engineering, who managed all design and engineering work, were on hand for the ceremony and did the honors of cutting the ribbon.
AHRC NYC's Camping and Recreational Services department would like to thank everyone who was involved with this project including Gary Lind, Mike Decker, Steve Towler, Kathy Broderick, Amy West, Pam Minkoff, Mark Moore, Barbara Kaplan, John DeFreitas, Chris Chung, Peter Yau, Chapman Wong, Wendy Rogers and Mimi Wu.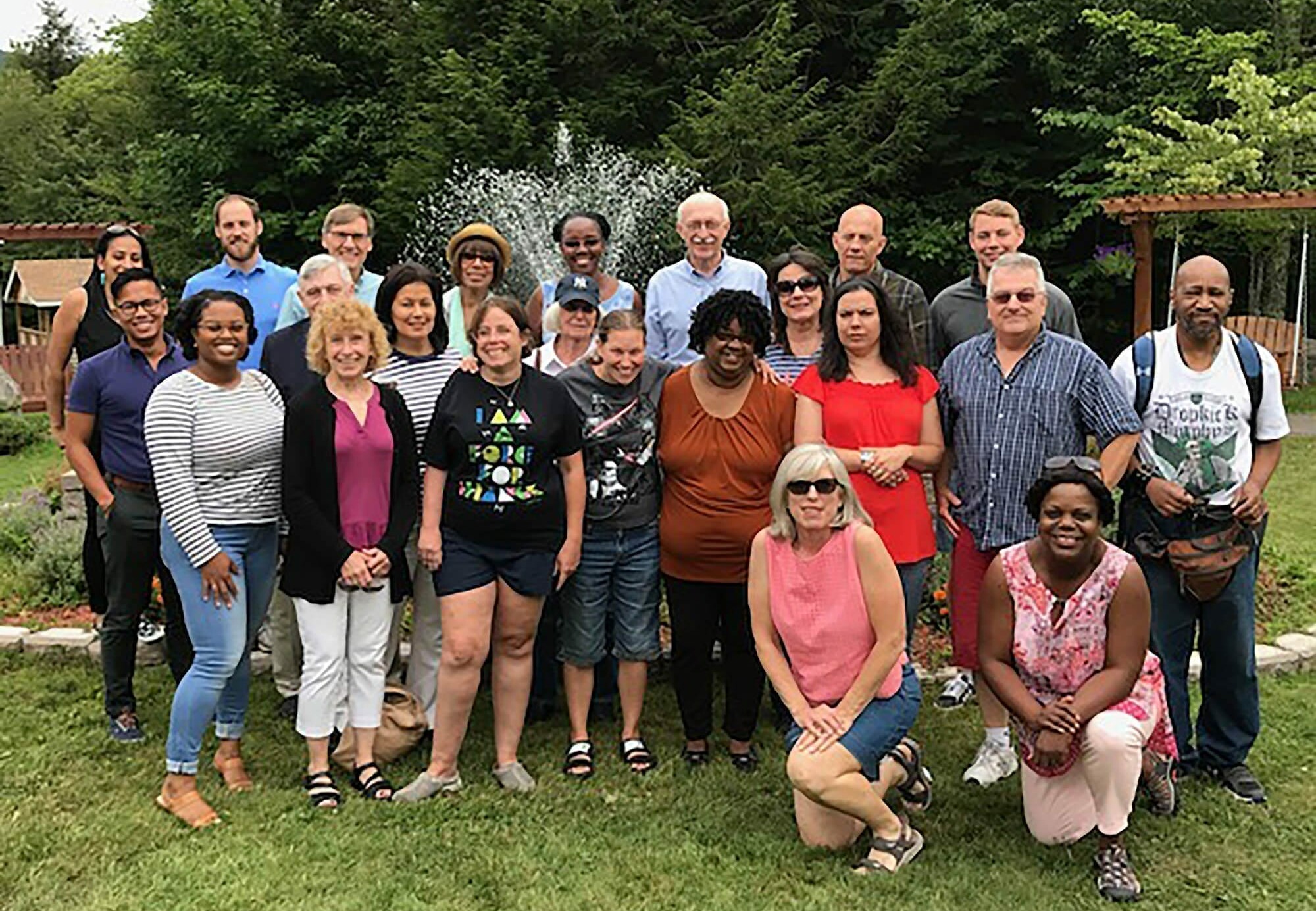 ---
Extra big thanks go to Christine Bishara, Associate Director for Real Property, who managed all aspects of this building project and was instrumental in getting it done in time for camp; to Joe Dibbell, who was on-site every day coordinating vendors and contractors; and to Matt Hatcher, Director of the Lodge, who did a great job of selecting all the finishes, especially challenging in his first year as a director!
We are using our camps more year-round for both participating programs and for staff retreats and this new building will easily house great breakout meeting spaces in a bucolic setting.   If you are interested in scheduling a visit for a program, please contact Michael.Rose@ahrcnyc.org for further information.