AHRC New York City is proud to work with dozens of community partners in a multitude of disciplines throughout the year, having continued to support people with developmental disabilities in the face of the COVID-19 crisis. Here are some of their stories:
Wendy Hagen, a yoga instructor for more than 30 years, was a little more winded than usual following her first remote yoga class for 33 AHRC New York City staff on Tuesday, March 31st.
"When I'm teaching classes in my studio, I always walk around and give hands-on adjustments and variations as I teach," said Wendy, who has partnered with AHRC NYC since September 2019. "This was a challenge for me to be talking and moving and not seeing people. My philosophy has been if I get on the mat, it becomes about me; I want it to be about their experience."

Using the Zoom platform, AHRC NYC employees enjoyed a free, one-hour remote yoga class. Wendy offered the class to staff from 5:30-6:30 p.m., Tuesdays and Thursdays, and a chair yoga class to the individuals AHRC NYC supports from 11 a.m.-noon on Mondays, Wednesdays, and Fridays.
One staff member emailed Wendy how much she enjoyed the first class. Another thanked her for offering yoga, which was just what she needed after a stressful day.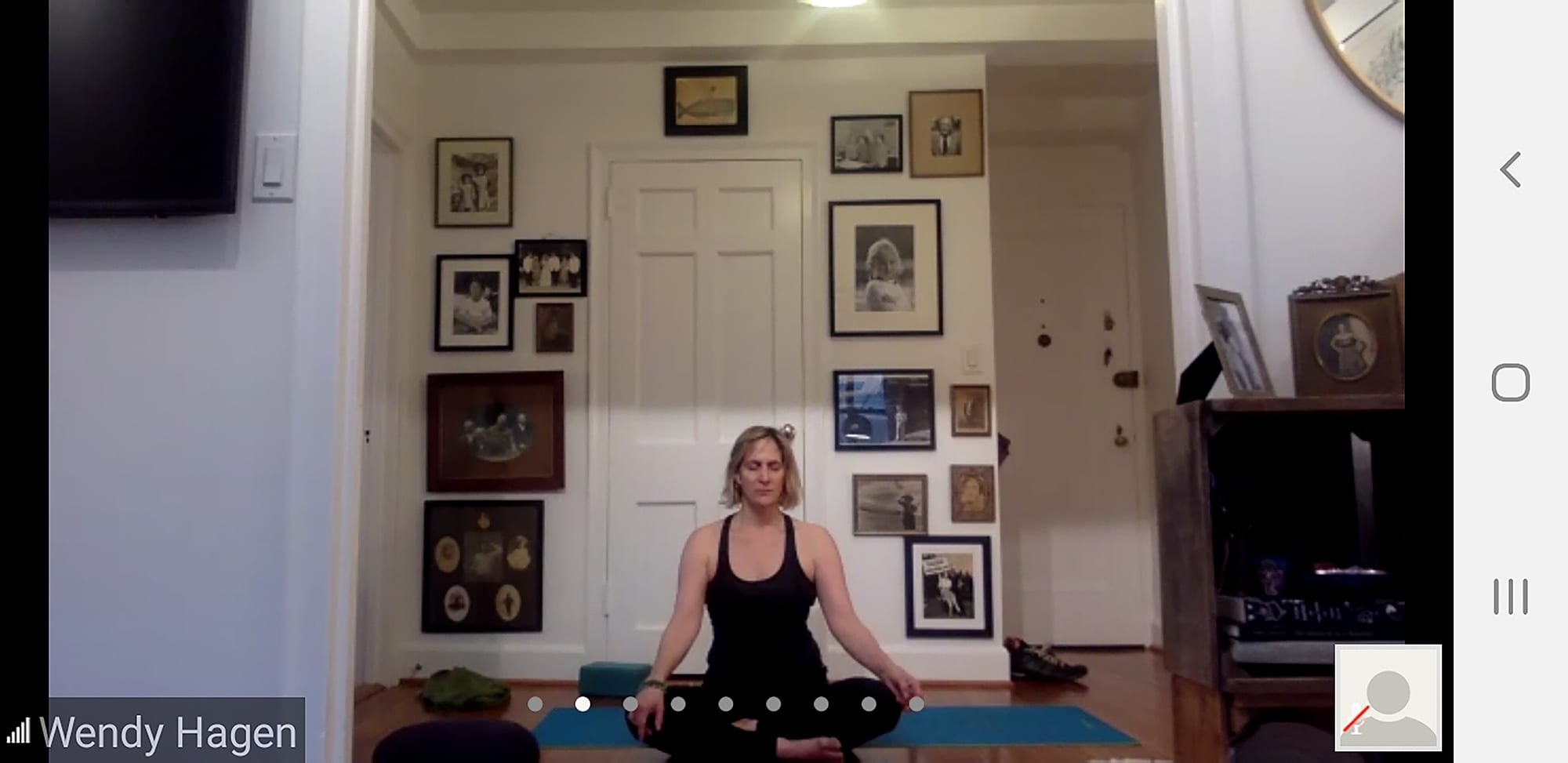 "I hope the staff feels like they have found a tool that helps them to step away from the stress and do a little bit of self-care," Wendy said. "I can only imagine the stress the staff is dealing with and the fear they are feeling. If they have the opportunity to check in with themselves, they'll be reminded of the good work they are doing.
Wendy is familiar with the people AHRC NYC supports, having conducted mock interviews and assisting in Money Makes Sense, a financial literacy program. She also held an art class before teaching the yoga class.
"When we began closing programs and realized we were going to have virtual classes, I knew I had to call Wendy," said Karen Zuckerman, Director of Community Partner Engagement. "She said 'she'd love to.' That's the kind of person she is."
"I feel so fortunate to work with so many talented and dedicated community partners who want to make a difference in the lives of the people we support and our staff," Karen added. "People are willing to help in any way that they can during this difficult time. Everybody talks about how NYC will get through this together. Our community partners are right there with us."
*******
Alexa Aranja has blended her work at LeverData, a small New York City technology startup, and her passion as a community partner. When it became clear in March that virtual classes would become the norm, she worked to ensure AHRC NYC had the right platforms in place.
A community partner with AHRC NYC for nearly five years, Alexa has always enjoyed organizing and teaching the Money Makes Sense program in person. Now her role has shifted so she can provide the people we support with a return to some normal routines through virtual programs.
Alexa said that Zoom works well with larger groups, where there are fewer people talking at once. Zoom Breakout Rooms got too complicated, she said, so it was decided that smaller groups should use phone calls. Staff members also can help facilitate conversation if too many are speaking simultaneously.
"It's nice to know the staff members really want to help and figure this out," Alexa said. "The important part of participating is sticking with one organization. I like AHRC NYC's mission and I want to support them."
*********
Justin Howe hosted his first session of the remote wrestling group earlier this week, and it was quite clear from the start that seeing and talking amongst the members was more important than wrestling. "They were pretty excited," Justin said, adding that having been away from their programs for a few weeks, this was the first contact many of them had made.
The topic soon switched to WrestleMania, "the Super Bowl of wrestling." WrestleMania 36 was held on April 4th and April 5th at an empty WWE Performance Center in Orlando, Fla.
A high school wrestler, who played college football, Justin grew up watching wrestling in high school and continued in college. After taking a hiatus, Justin finds the group renewed his interest in the sport.
"They're very in tune with wrestling," he said of the group members. "I like that they come in and are very enthusiastic. A lot of them know a lot more than I do."