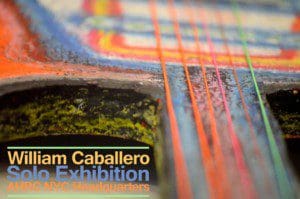 William Caballero's paintings stand out like the San Juan sun. Puerto Rico has been a huge influence on his art for years. Bright tropical colors leap off his canvases, creating an island aesthetic that instantly conjures up feelings of warm weather and the beach.
"My grandparents are from Puerto Rico," William said during an artist reception event held in the lobby of AHRC New York City Headquarters on Wednesday, August 31, 2016. "I also remember seeing [the island] on TV." William has visited Puerto Rico several times, and it has created a lasting impression on his artwork.
William began painting when he received services at Dean O'Hare Day Center, (a facility that has since closed,) and has continued honing his talents at AHRC NYC's Kings Highway Day Services. His newest project is carving sculptural guitars out of wood and decorating them with oil pastels.
"I love listening to old music, disco, and rock and roll," William said as he tinkered with a transistor radio. In addition to featuring his signature bright hues, the guitars closely mirror the shape of classic designs such as the Fender Stratocaster.
AHRC New York City is Proud to Congratulate William on an outstanding Exhibition of his creative work.