"I've never looked at this stone in detail," says Paul Scherzinger, as he and his mentor arrive at a large rock at the end of a paved pathway on the campus of the College of Staten Island, (CSI). On the side of the rock is a plaque containing an image of a building that once stood, but has since been torn down.
Paul leans forward in his wheelchair, to read the words inscribed on the plaque.  The heading reads, "A PROMISE FULFILLED," an allusion to the closing of the infamous Willowbrook State School, which occupied the site for 36 years and was closed in 1987, following a well-publicized scandal that revealed deplorable living conditions for the people with intellectual and developmental disabilities who had been living there. Paul knows the story well, having learned about it while attending college.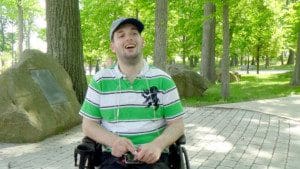 "Some people may not have heard about this," he says. "That's why we're speaking up."
On a warm day in May, under a canopy of trees, Paul and his mentor, Eduardo "Isaac" Garrido, discuss the vast contrasts that can be seen at this location over several decades. Today, the same location is the campus of CSI, which provides educational opportunities for people with and without disabilities, preparing students to become responsible and active members of their communities.
"I want to be a video game journalist," says Paul, who is a graduate of AHRC NYC's Melissa Riggio Higher Education Program at CSI. "I majored in media because I like to analyze TV, movies, and videos games."
AHRC NYC's Self-Advocacy Leadership Committee
Paul's life in college was not solely focused on academic study.  While attending the school he learned how to stand up for the things that matter to him. "Self-advocacy to me is learning to speak up for yourself, learning to protect yourself, speak up for your rights, and fight for what you want."
For the past year, Paul has been a member of the AHRC New York City Self-Advocacy Leadership Committee, a group of self-advocates who work together to identify and address issues of importance to people with intellectual and developmental disabilities.
"We meet with Gary Lind, who is the CEO of AHRC NYC, to talk about the problems in New York and the community," he says. "We inspire people to realize how important it is to support people with disabilities."
Life from Paul's Perspective
Paul describes a variety of obstacles that are often encountered by people who use wheelchairs as they travel around the city. "One day, I went to a comic book store in midtown [Manhattan], and when I got there, there was no elevator." Paul's long trip to the city was all for nothing, and he had to turn around and travel back home without even entering the store. This was just one example of a long list of travel experiences that did not work out for Paul due to accessibility issues. "What do people in wheelchairs need?" he asks. "Ramps, elevators, wide spaces, accessible bathrooms…"
Speaking Up in Albany
Paul relayed his concerns about accessibility to his peers in the Self-Advocacy Leadership Committee, in a meeting that was attended by AHRC NYC's Senior Policy Advisor, Al Kaplan.  "He [Al Kaplan] asked us if we would like to go to Albany to talk to government officials and advocate for people with disabilities," says Paul. "I said Yes. I went to Albany last year to talk to government officials about problems with Access-a-Ride, accessibility [issues], and more jobs for people with disabilities."
Along with other self-advocates, Paul visited Albany and met with legislators and government officials, making them aware of a variety of issues that people with disabilities face in their everyday lives. They had fun too, spending two snowy nights in a hotel, dining out as a group, while gaining more confidence to speak up, and more motivation to teach their peers to do the same thing.
Creating an Accessibility Rating System
"I've been living here all my life," says Paul. "I see how terrible it is, especially in New York.  Every corner, every building is not accessible. It's very tough. So I thought, maybe I can make a system to improve accessibility."
Paul's idea is to create an accessible rating system to be used by people with disabilities as they travel throughout New York City.  "I want to create something kind of like the Health Inspector rating system," he says, adding that his system would have similarities to the online restaurant and business rating platform, Yelp.  Paul's proposed system would account for accessibility for people with a variety of disabilities, such as hearing, sight, and mobility impairments. Using Paul's system, a person would be able to rate the accessibility of public transportation and buildings with their mobile device.  Over time, as additional people add their own ratings for the same places, individual locations would gain average ratings from multiple users, allowing people with disabilities to refer to the ratings as they plan to travel around the city.
Paul envisions that his system would also allow business owners to view the same ratings, to find out what people with disabilities encounter upon visiting their business locations. "They could try to improve it, [their building's accessibility]. They could talk to architects to fix the problem."
When asked if he currently has the technical skills necessary to make his mobile app, Paul replied, "No, not yet… but when I go to the Leadership Committee, my mentors help me.  Eventually, we're going to make the app, but I need a little bit more time, and structure to make it."
AHRC NYC is proud to celebrate Paul's goal of creating a system that will help other people who encounter difficulties as they traverse their communities.  The heading, "A PROMISE FULFILLED," from the plaque that commemorates the closing of the Willowbrook School, stands a stark reminder that some promises still wait for an answer.  Paul and people like him, who recognize their own ability to speak out about the things that matter to them, will be the ones who make improvements in their communities in the years to come.