On a perfect late summer morning uptown on Third Avenue, Brandon McElroy was reading the news. He reached the sports section of the day's Metro New York and became engrossed by an article detailing the turmoil surrounding the Knicks and their star player, Carmelo Anthony. Brandon pulled out his notebook, black-and-white and thick and bursting with newspaper clippings, and handed it to Peter Doherty, Community Support Professional for AHRC New York City's Day Habilitation Without Walls.
"I've been working with Brandon for several years now," Peter said. "He consistently amazes me!" Peter skimmed through the article, stopping at certain points to write down a question for Brandon, to test his reading comprehension.  "He types 40 words per minute, he's an accomplished swimmer," Peter continued. "Brandon loves specific interests, especially zoos and aquariums. And he's a prolific picture taker."
---
Peter handed the notebook back to Brandon, who quickly dived back into the article to answer Peter's questions. Looking up from the pages, Peter took a moment to reflect.
A History of Service… with a Smile
"If you told me ten years ago that I'd be working with people with developmental disabilities I'd have asked you what are smoking?" he laughed. In 2011, after bartending for "30 some-odd years" at various watering holes around the city ("My signature drink was putting money in the cash register and making sure there were no problems at the bar," he quipped), Peter began experiencing burnout and needed a change.
"I was fortunate to be able to take time off and started volunteering full time," he said. Peter worked with nature and conservation groups, the elderly, dementia patients, and eventually people with disabilities.
"Equine therapy really struck me," he said. "It was a six-week program, and some of the kids just blossomed. The second or third week there was this young child, who was nonverbal and didn't want any contact, who just ran up to me on the bus and gave me a big hug. I have chills down my spine still talking about it."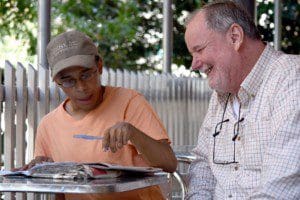 As Peter recounted his beginnings, Brandon tapped him on the shoulder, pointing at the notebook with his pen as if to say "Did I get these answers right?" Peter looked over Brandon's responses, smiled, and wrote: "Very good! 🙂"
A few minutes later, they moved inside for a jewelry-making class Brandon has been attending for over two years. The frequent changes of scenery don't bother Peter—in fact, it was a contributing factor in his decision to join AHRC NYC's Day Habilitation Without Walls full-time as a Community Support Professional.
"I was an active volunteer with New York Cares and Jonathan Epstein [now AHRC NYC's Transition Developer] was with someone he supports," Peter recalled. "We were in a community garden. I was intrigued–they were out in the world learning together."
Preparing to Travel and Participate in the Community
Despite joining the field later in life, Peter aims to contribute any knowledge he can share with often younger colleagues. He starts by encouraging them to model their work fashion after his own—a simple button-down shirt, loose cargo pants, and hiking boots. "I always tell the new employees to wear waterproof shoes and comfortable clothes. If the subways are running, we are out, so you must be prepared."
Peter recently made the choice to join an AHRC NYC Supported Employment program. "It wasn't really a hard decision, but I will miss people like Brandon very much," he said. Despite moving into a new position, Peter is committed to his same philosophy of service.
"All of the people we support are individual to the extent that it's mind-boggling," Peter said. "We have to forget about what our standards are. Don't impose your own concept of right or wrong or appropriate and inappropriate. You'll learn patience. And I never forget to smile and laugh."