Elizabeth Lynam
Executive Vice President and Chief Program Officer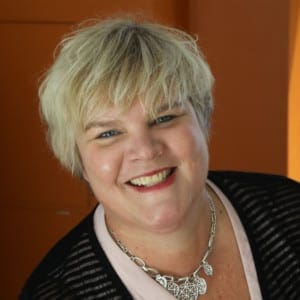 Elizabeth, also known as Betsy, is responsible for the exceptional programs and services AHRC NYC provides to over 15,000 individuals. She joined the agency in 2018, bringing with her a unique range of experiences and over 20 years in progressively higher-level roles in the development of policy and financial models for services, and in the administration of those services, to meet the needs of vulnerable populations across New York State.
In Betsy's recent role as a Subject Matter Expert in KPMG's Healthcare Transformation Advisory Practice, she helped lead the strategic direction for Value-Based Payment models for NY's $70 billion Medicaid program. While at KPMG, she also specialized in the areas of behavioral health, working closely with the NYS Office of Mental Health and the Office of Alcoholism and Substance Abuse Services, in long-term care for the aging, and in adults and children with disabilities, working closely with OPWDD.
Prior to KPMG, Betsy was the Vice President of the highly regarded Citizens Budget Commission, a nonpartisan, nonprofit civic organization whose mission is to constructively change the finances and services of New York City and New York State government. She also held positions as Deputy Director of the New York City Department of Education, Office of Special Education Initiatives, and as a Senior Education Analyst at the New York City Independent Budget Office. In addition, Betsy served in various capacities at the United Cerebral Palsy Association, the Learning Disabilities Association, and The Arc of Monroe.
Betsy is the liaison to the Day Services, Employment and Residential Services Committee, the Family and Clinical Services Committee, the Camping and Recreation Committee, the Guardianship Committee, the Incident and Oversight Committee, and the Children and Education Committee of AHRC NYC's Board of Directors. She is also an Executive Lead for strategic planning that will prepare and position AHRC NYC for success in the face of the market forces and regulatory landscape that lie ahead.
Betsy holds a Master's degree in Policy Analysis and Management from The New School and a Bachelor of Science degree in Human Development from Cornell University. She has been a resident of Croton since 2012 with her husband, son, and daughter, and is an active member of her district's Board of Education, on its Communications, Audit, and Policy Committees.